MYVIVO Ecosystem
Jan - June 2021
Myvivo is a community allows users to excercise and participate in activities with like-minded people and have the chance to win exclusive new-tec 3D customised shoes.
Teamed up with 5 other service designer, partnered with
vivobarefoot
My role in this project includes
user research, workshop design, ideate concept.
Background Concept Prototype1 Prototype2 Summary
At the February 2021, we received a brief from the VivoBarefoot team, to design a subscription system for 3D customized shoes.

We are required to envision the full service experience of subsciption shoes as part of the circular system, and to deliver a seamless experience from scanning to product sale, delivery and return.



However…..
During the user research, we found many barriers prevent people from making the purchase.
The key problem is that customers don't understand the concept and the benefits of the product.
Firstly, for most common customers,
they see the concept of barefoot shoes in different ways.




And for our existing loyal customers, they can't perceive the difference between 3D customized shoes and barefoot shoes from the user experience point of view.



Moreover, 3D customisation, subscriptions, and barefoot shoes concepts are three relatively independent and very new and even alien concepts to customers.


In this case, the existing loyal customers are very clear about the barefoot shoes experience, but they have no idea what it feels like when switching to 3D printed shoes. The descriptions and promotions doesn't convince customers, because they don't have the chance to feel those shoes until they make the purchase. The thing they do know is that it would be costly.



Therefore, what we need, and also what our customers need, is a channel, an opportunity for everyone to break the barrier, to experience, to talk about, to give feedback on 3D printed shoes.

In order to analyse and explore the possibilities of combinations between three concepts, we drawn up a strategic plan, with a hypothetical phasing of the project. Objectives were set for each theme by phase. It's a step by step plan to help customers gradually accept and become Vivo3D members.




Focusing on phase2, we designed a VIVOevent platform that offers offline o2o activities, and a VIVOpoint system that quantifies and rewards user participation.



By joining in activities or accumulating points, users can redeem treasure boxes in which they can win Vivo3D experience tickets and fragments of tickets in the form of blind box draws. And by collecting the pieces to form a complete Vivo3D experience ticket, users can get 3D printed shoes for free. As the lucky draw through the blind box is a controlled probabilistic event, its cost is manageable.





After the primary design porposal, we needed to run a few prototype test to verify our ideas, and we would make more detailed designs based on user feedback.





Prototype test - VIVOevent



We wanted to simulate a full flow experience and get overall feedback. The plan was to hold group running events in London and Shanghai. We encouraged volunteers to bring their friends, who can be potential users, along to participate.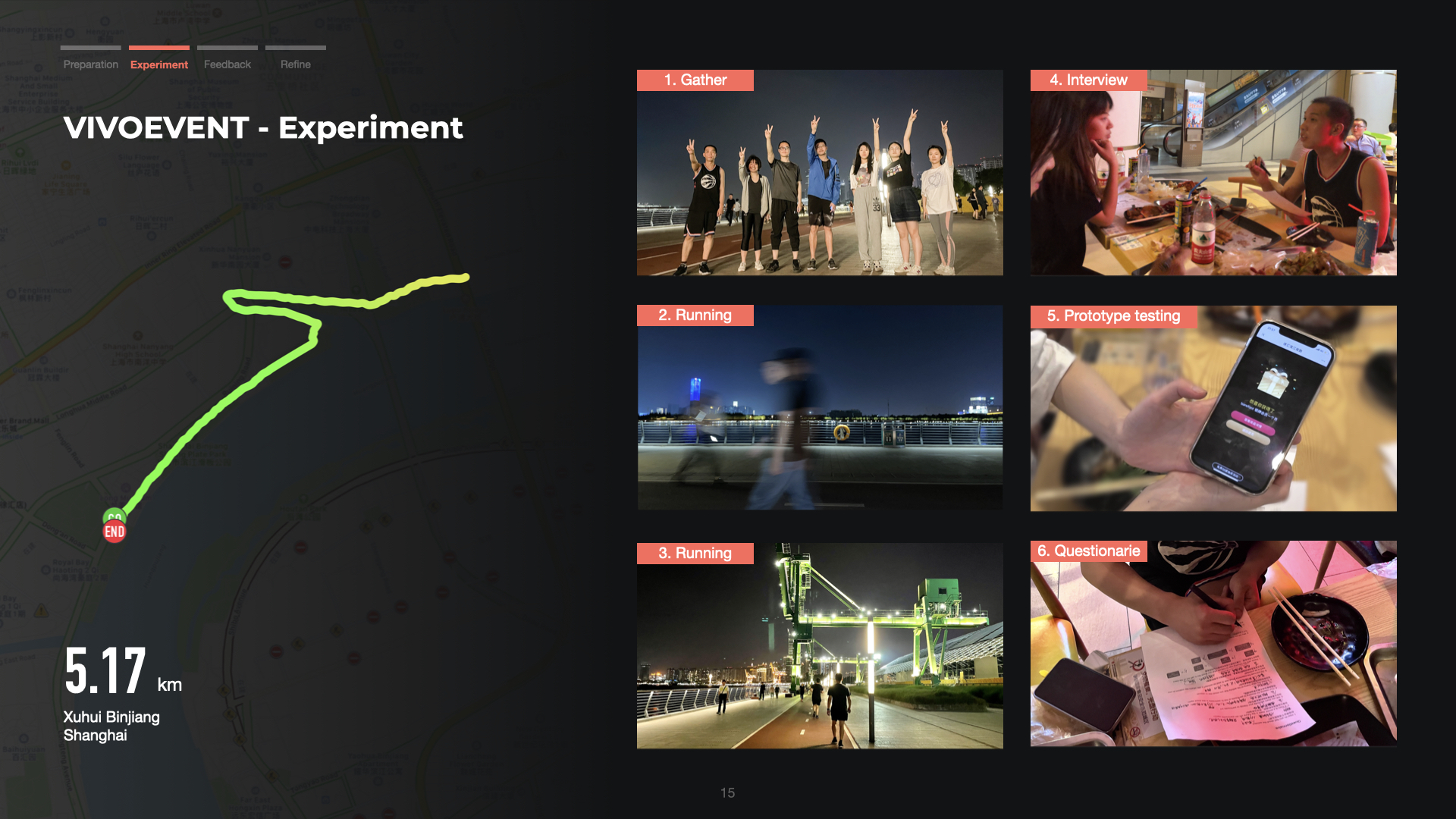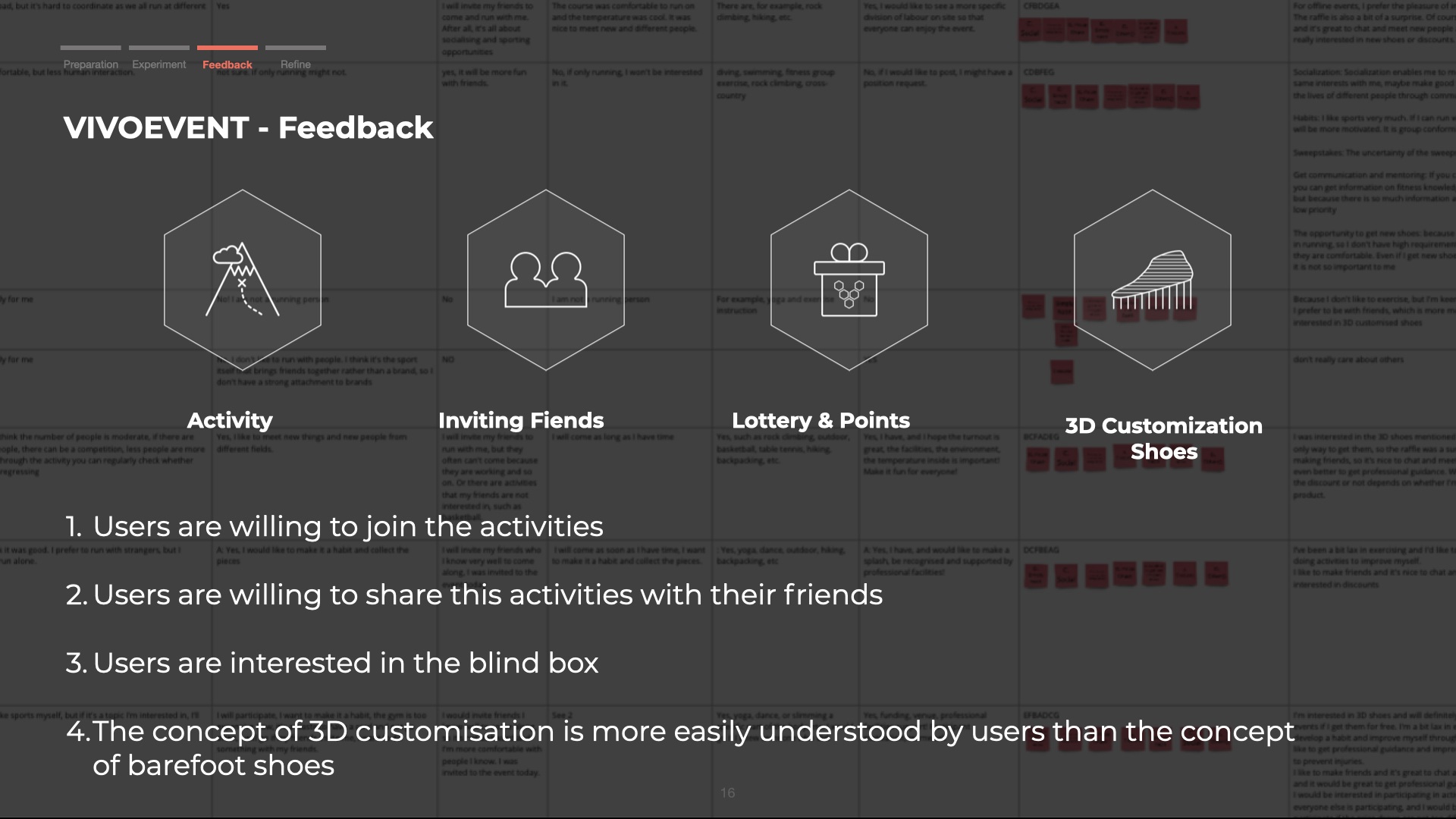 Although there are customers who may not want to participate in activities, most of them still have huge interest in VIVO3D free trial. According to the feedback of the users, (see in the slide view above), we have designed Vivopoint in more depth to quantify all kind of customers, and to provide multiple access routes to the blind box rewards.







VIVOpoint - Gamification

As one of the rewards, the blind box contains game skins, membership trial, VIVO3D fragment as basic items and the rare items involve co-branding products and most importantly, VIVO3D experience ticket.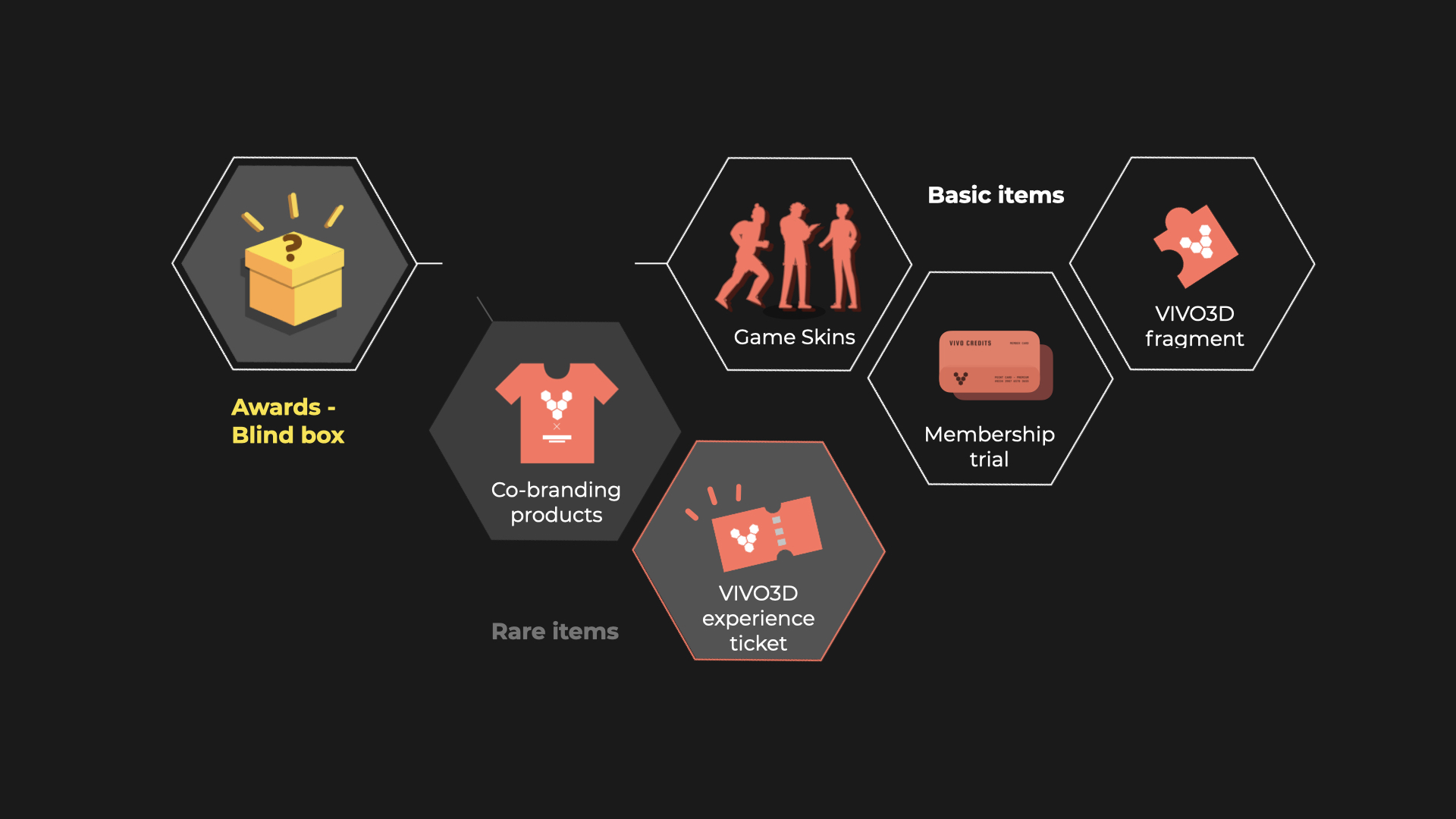 Users can earn points by performing positive actions that contribute to the community. The increase in points represents a climb up of the ladder. Once a milestone has been reached, users can unlock new privileges.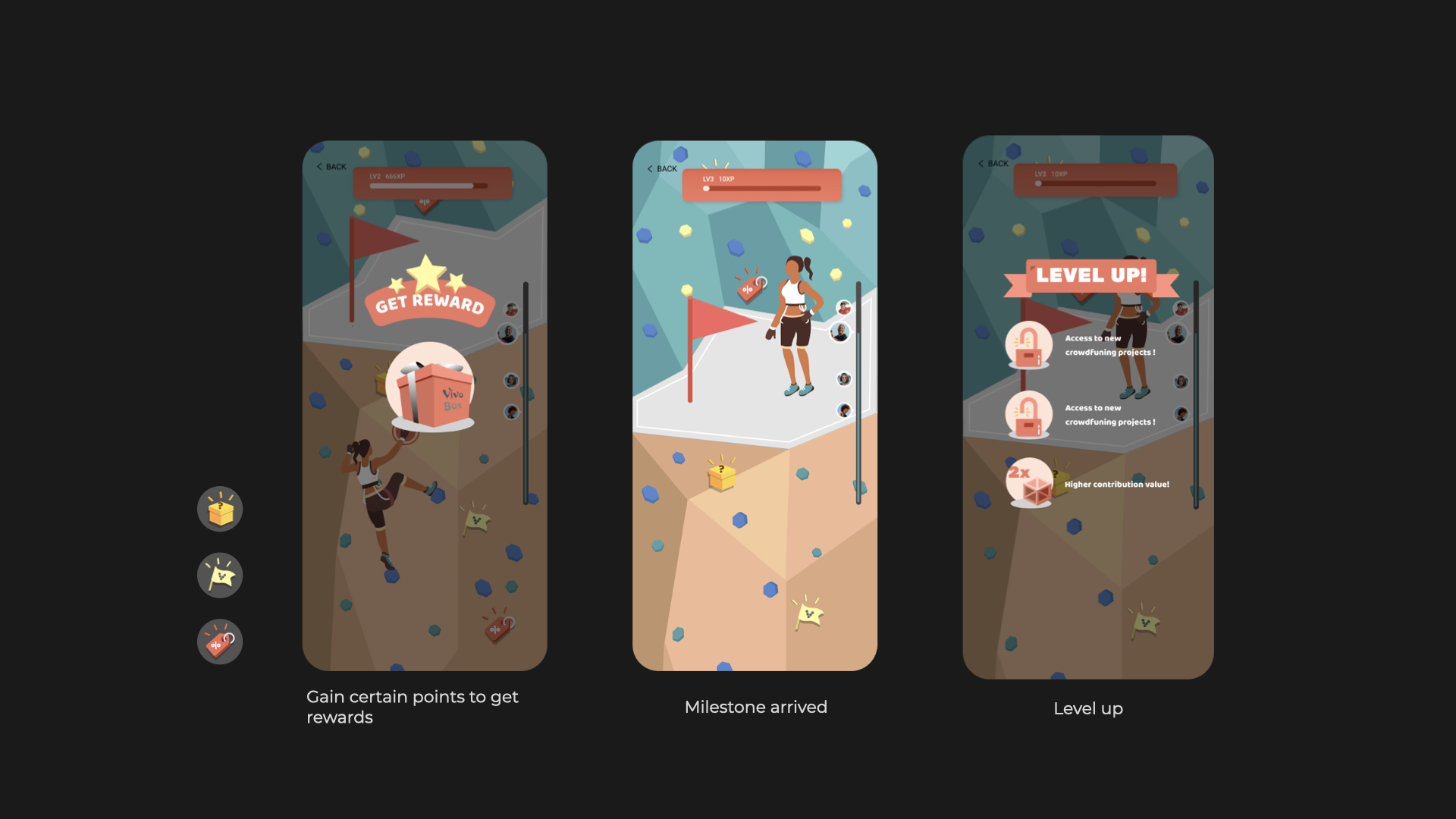 Users can decide who they will become. If a casual user spends more time on sports, they can earn the title of sports lover and earn more points from sports than before. A certified coach can then publish free or paid lessons in the app. A star coach's lessons can be recommended by VIVO and have the opportunity to host events in collaboration with VIVO.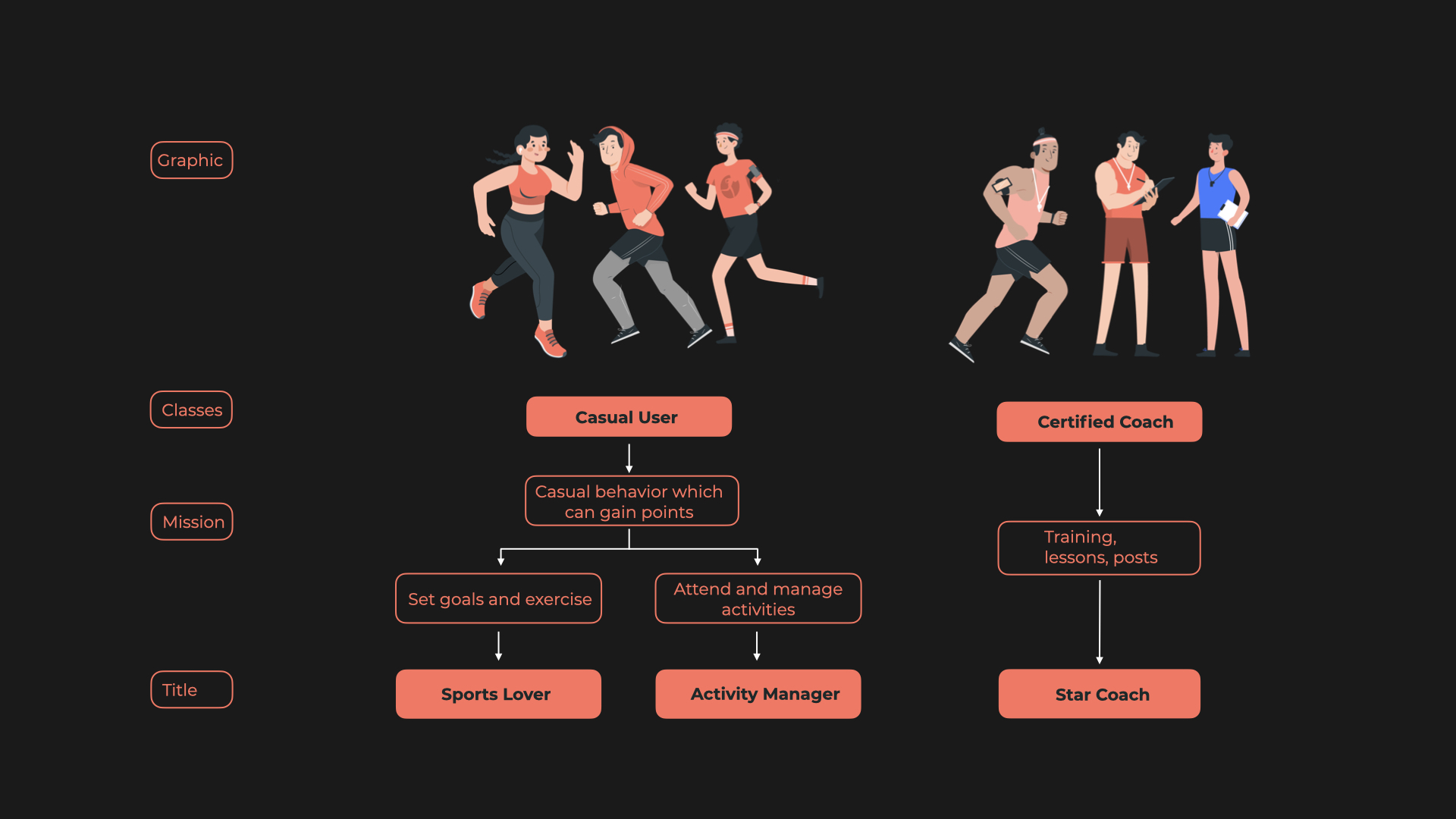 Prototype test - VIVOpoints

While testing the prototype of this game, we found a common question: In addition to discounts and blind boxes, what exactly is the value of points? Is there any unique value that points give to VIVO?




This gave us the inspiration to design a system for spending points to crowdfund. The points represent customer's personal benefit. By spending points on crowdfunding environmental projects means that they sacrifice some of their personal interest for the public good.





To confirm our ideas, we organised a small online workshop.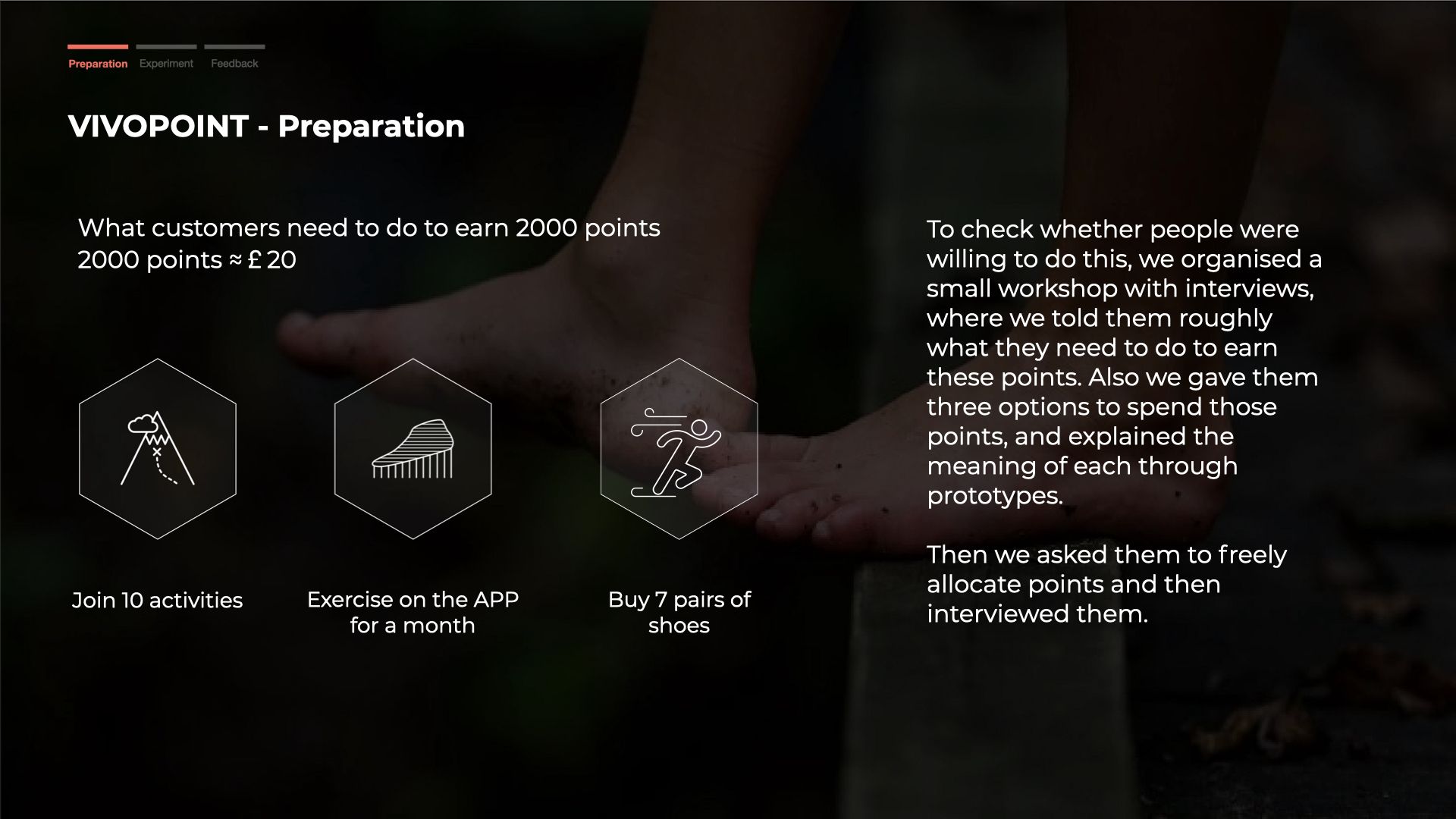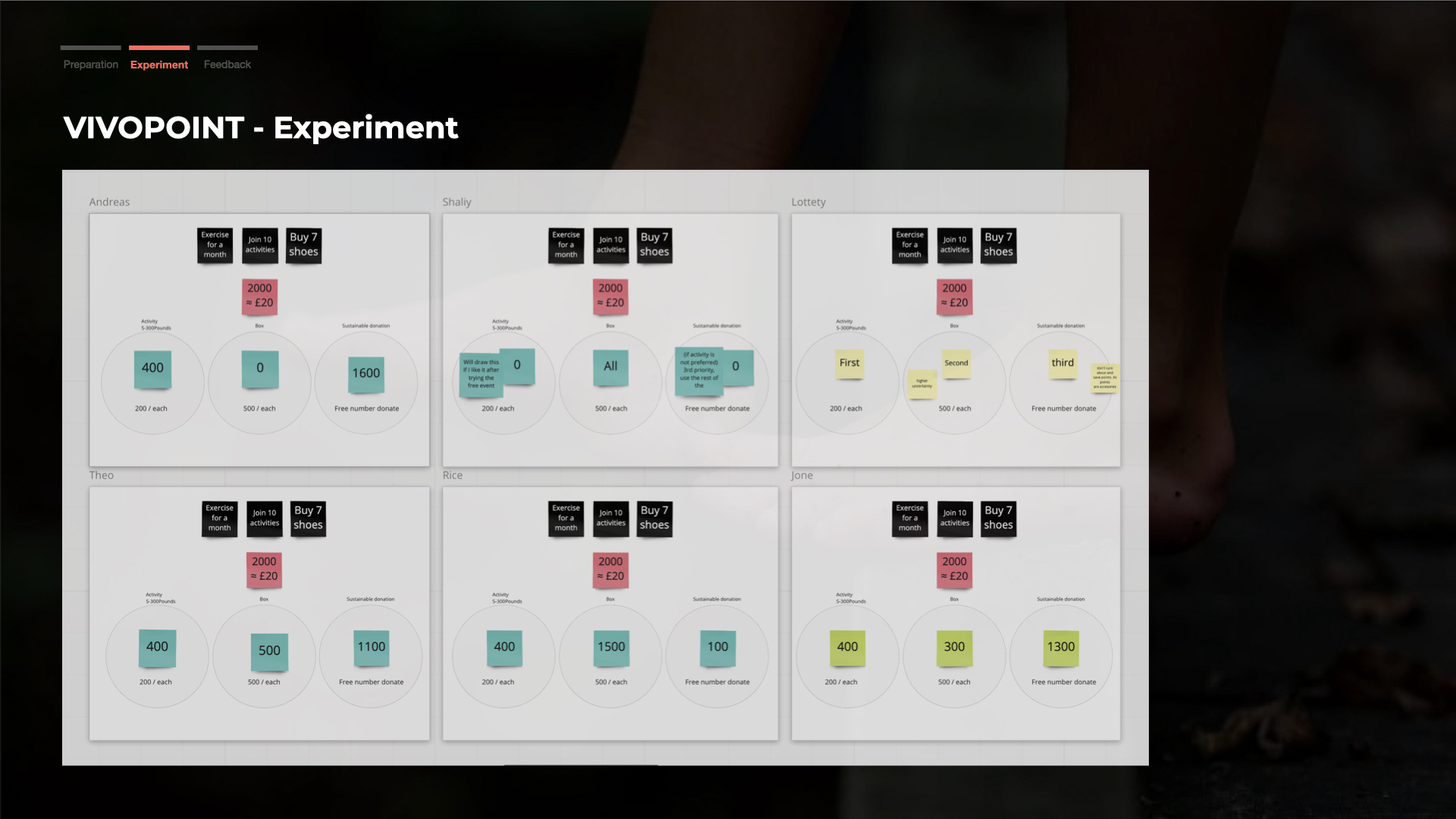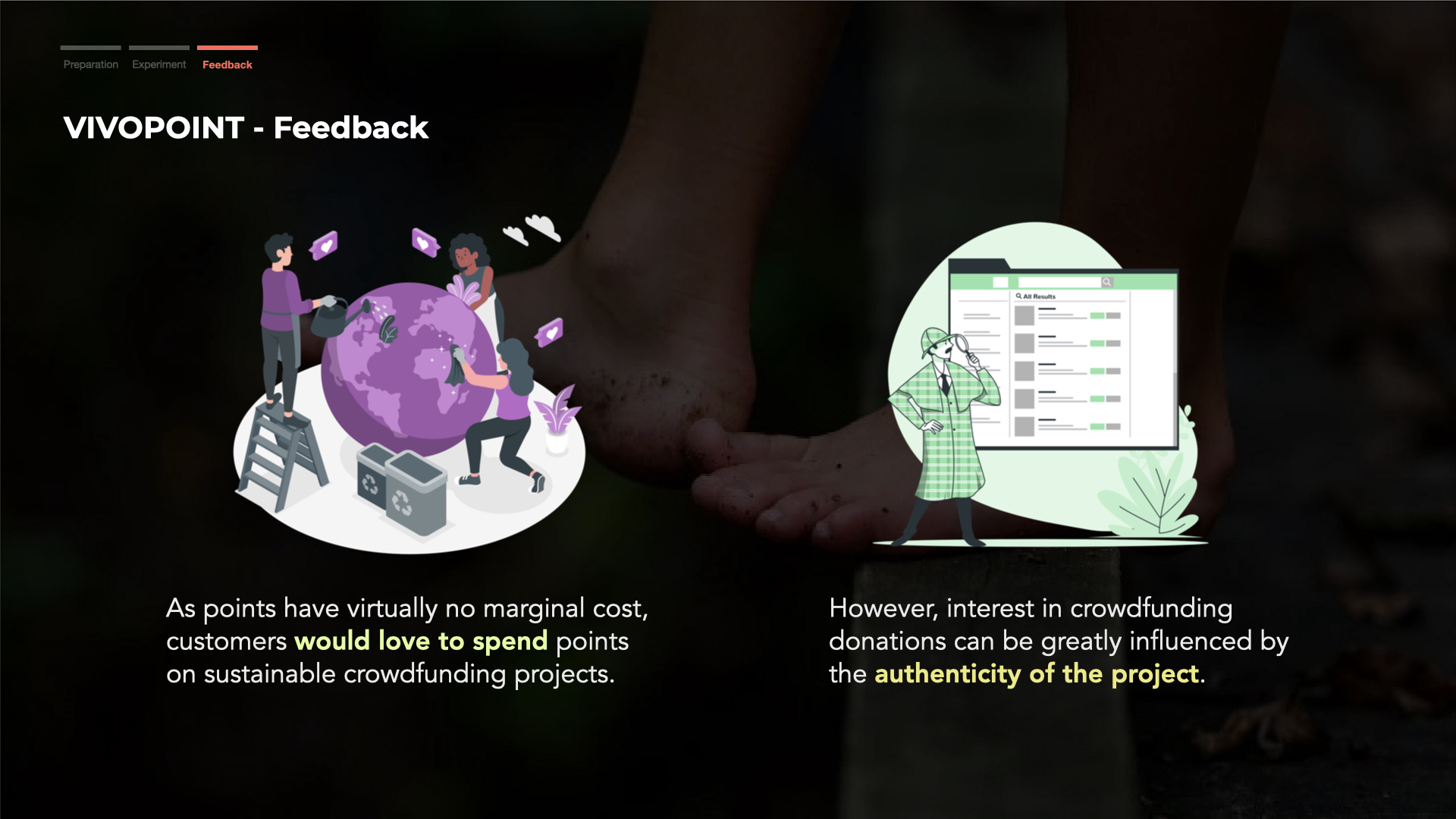 The key common findings in workshops is that, as points have virtually no marginal cost, customers would love to spend points on sustainable crowdfunding projects. However, interest in crowdfunding donations can be greatly influenced by the authenticity of the project.

With this in mind, we have taken great care in the design to emphasize the trust in every project.


Customers can choose the environmental project they like to donate
Click in the project, they can view live video and see the project process on a satellite map.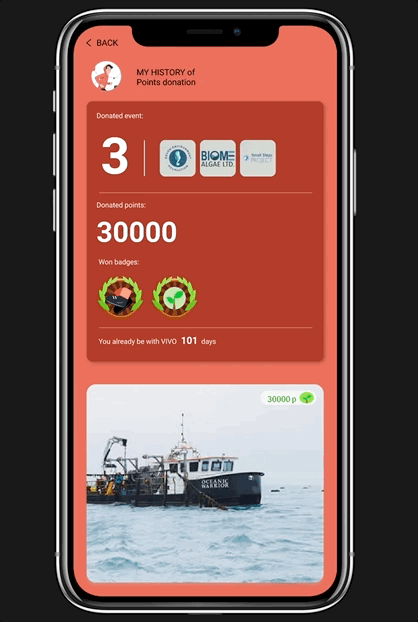 After donating the points, they can check their personal contribution to sustainable environmental causes.
In summary, what is MYvivo?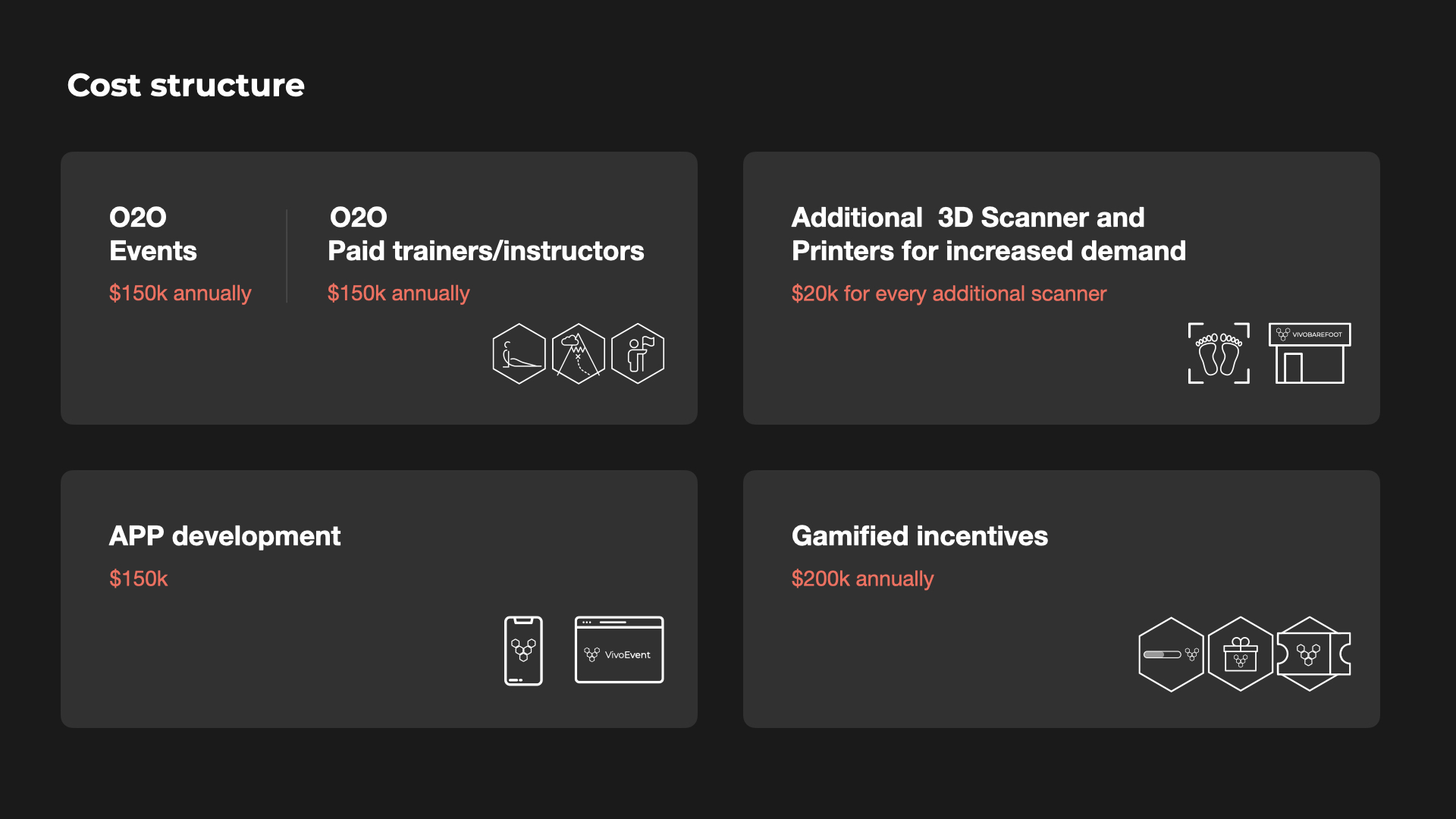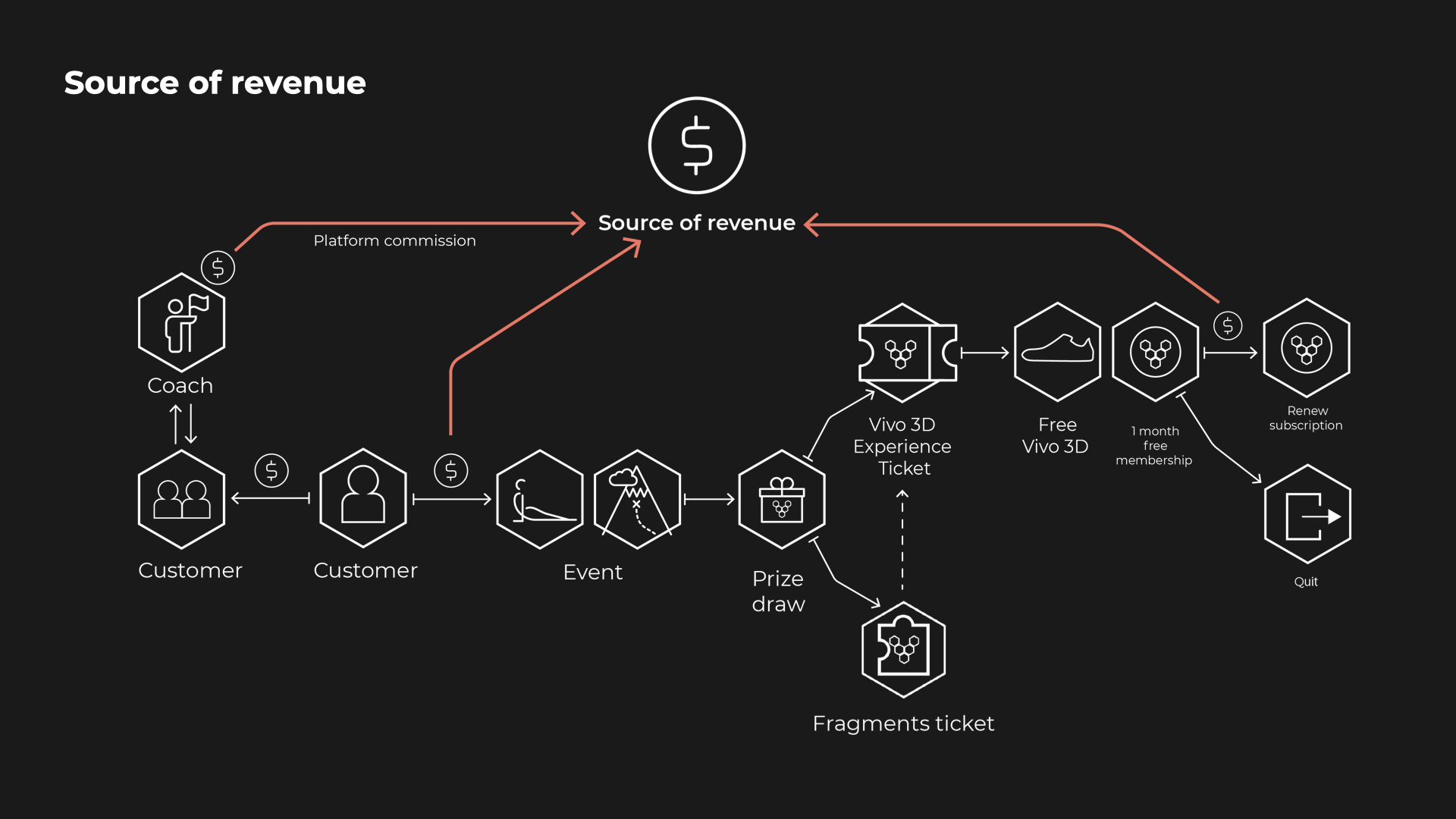 Goals in phase 2 is to increase the potential users base and lower the pressure when making subscription decisions on VIVO3D in the future.

VIVOEVENT platform provides a channel for users to "experience before purchase" in a more

cost efficient way.