SHARINGO -EV CHARGING Service
OVERVIEWSharinGo is a ride-sharing service that uses charging piles as pick-up points to help people with daily commuting. It enables people to share the ride during commute, leading us to a sustainable future with electric vehicles.

Charge, share, change. Our design raises people's awareness of electric vehicles, building trust and connection in the community.
MY ROLE
User research, service design, business analysis.
COLLABORATION
.
BACKGROUND

As the UK prepares for its shift into the electric vehicle era by 2030, the question remains whether people are ready to make the transition. Although 41% of surveyed customers are likely to purchase an electric vehicle as their next car, with the number continuing to rise, there are still concerns that hinder their adoption. One such issue is the lack of access to a home charger, which becomes even more problematic when public chargers cost significantly more.

Analysis of customer behavior reveals that 70% of EV users use public chargers more than once a week, with over 25% charging during peak hours. Switching to non-peak times could save them up to £360 per year. As it was discovered, the charging peak hours coincide with daily rush hour, presenting a design opportunity to address this issue and make the transition to EVs more convenient and affordable for consumers.




In the daily commuting scenario, it became clear that outside of London a car was necessary for work, while in London, lengthy public transportation was a major inconvenience.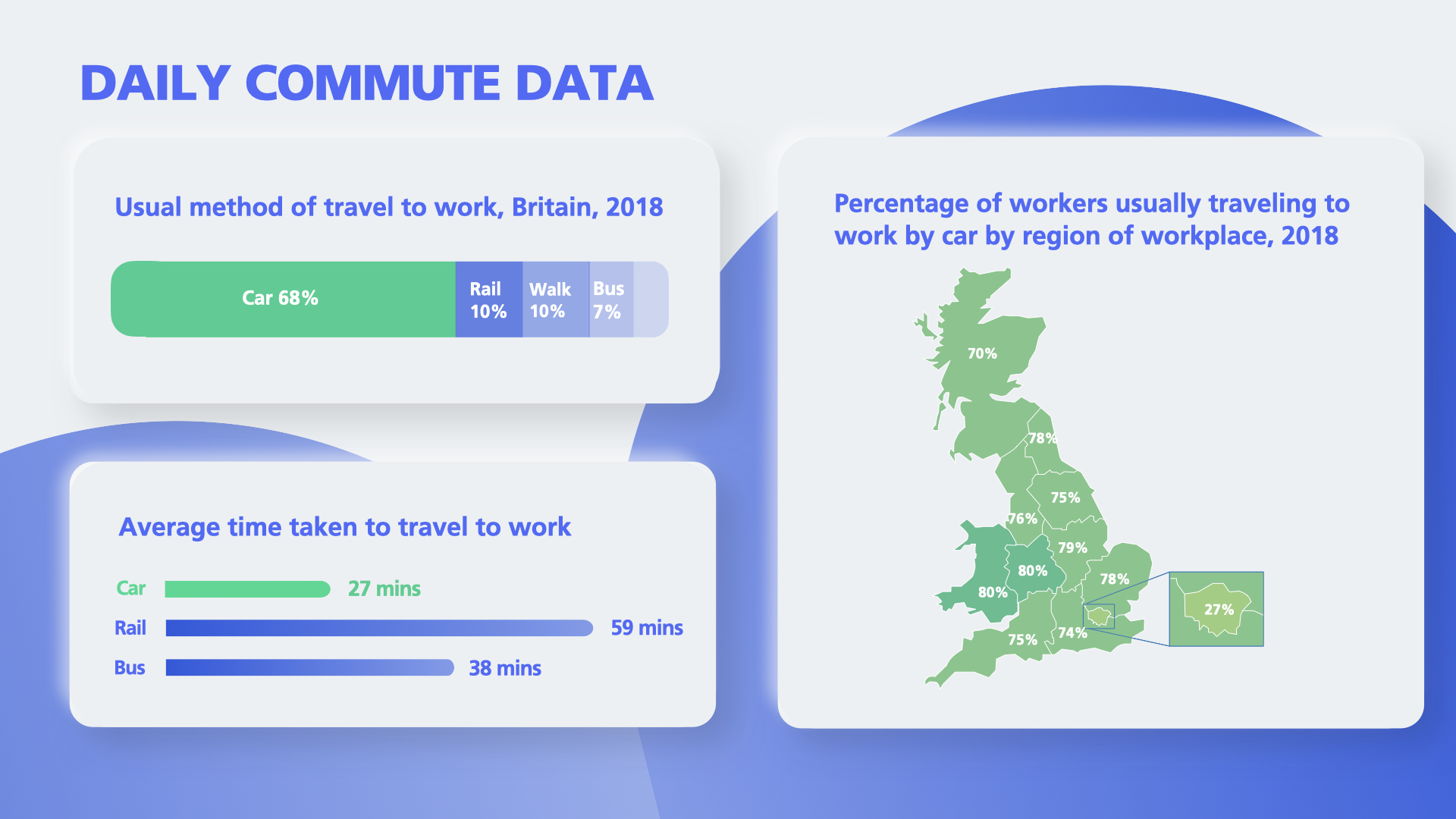 To reduce the cost of EV charging and improve the efficiency of daily commuting, we proposed the "Hitchhiking" concept for electric vehicle commuting.


We developed the ridesharing service journey based on the scenario in the storyboard. We offer a driver option for those who have an EV car and would like to share a ride with others. Also, a rider option for those who wish to take EV cars to commute to work.

PROTOTYPE
We conducted market research by presenting the storyboard to a sample group of electric vehicle drivers and individuals on the street. The feedback received confirmed the viability of our concept. Participants noted that the idea would allow for cost-sharing and time-saving benefits.

However, several concerns were also expressed, including trust and flexibility. To ensure the success of the service, these two factors must be addressed effectively.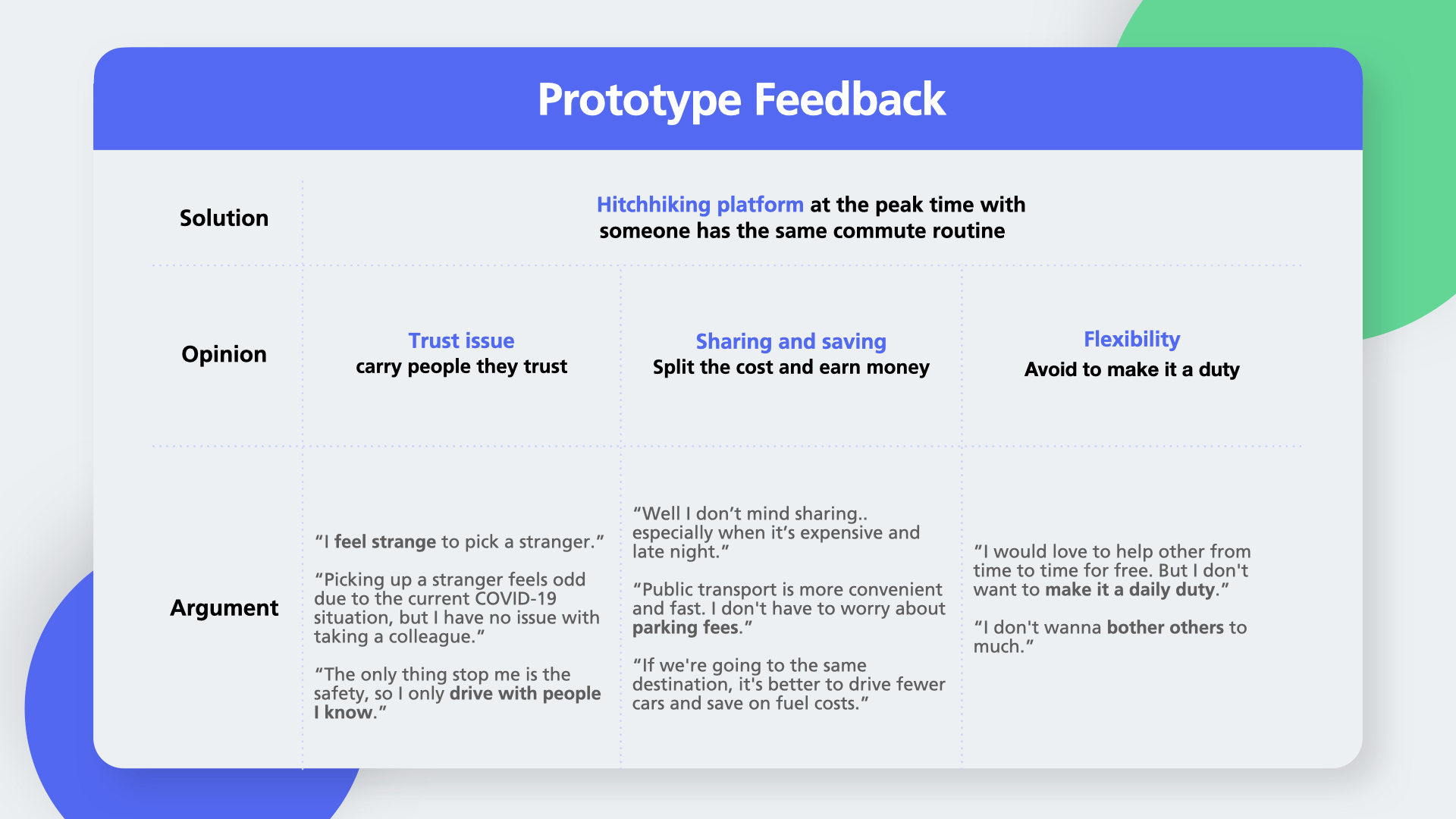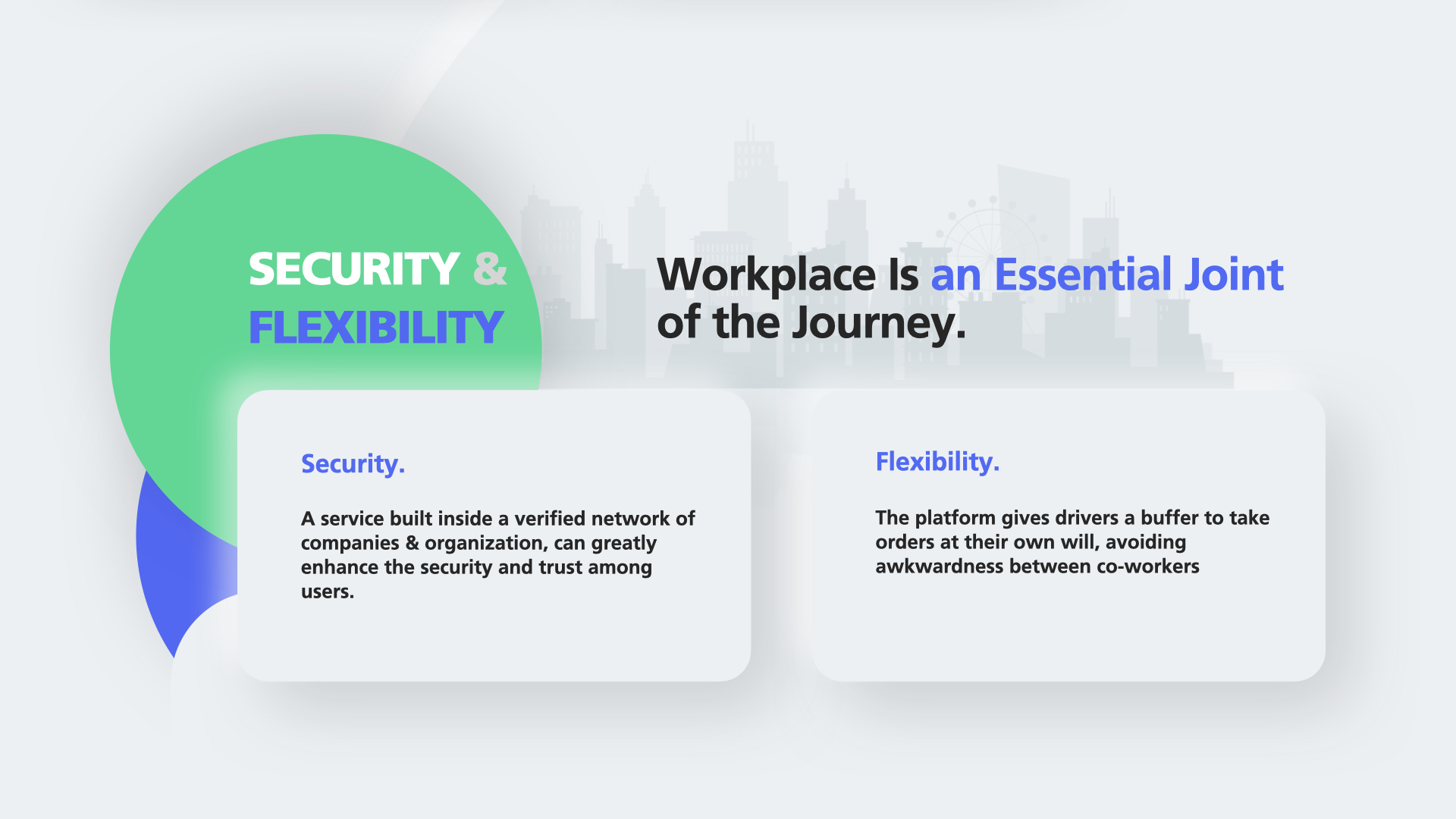 PRODUCT DESIGN
Our original plan was to bring together EV owners and passengers who have similar travel routes and departure times through a charging point network. According to the feedback, We prioritize security and have established a verified network of companies and organizations to serve as the source of our drivers and riders. This not only enhances the safety of our users, but also gives them the freedom to choose their preferred travel time, number of passengers, and even travel with coworkers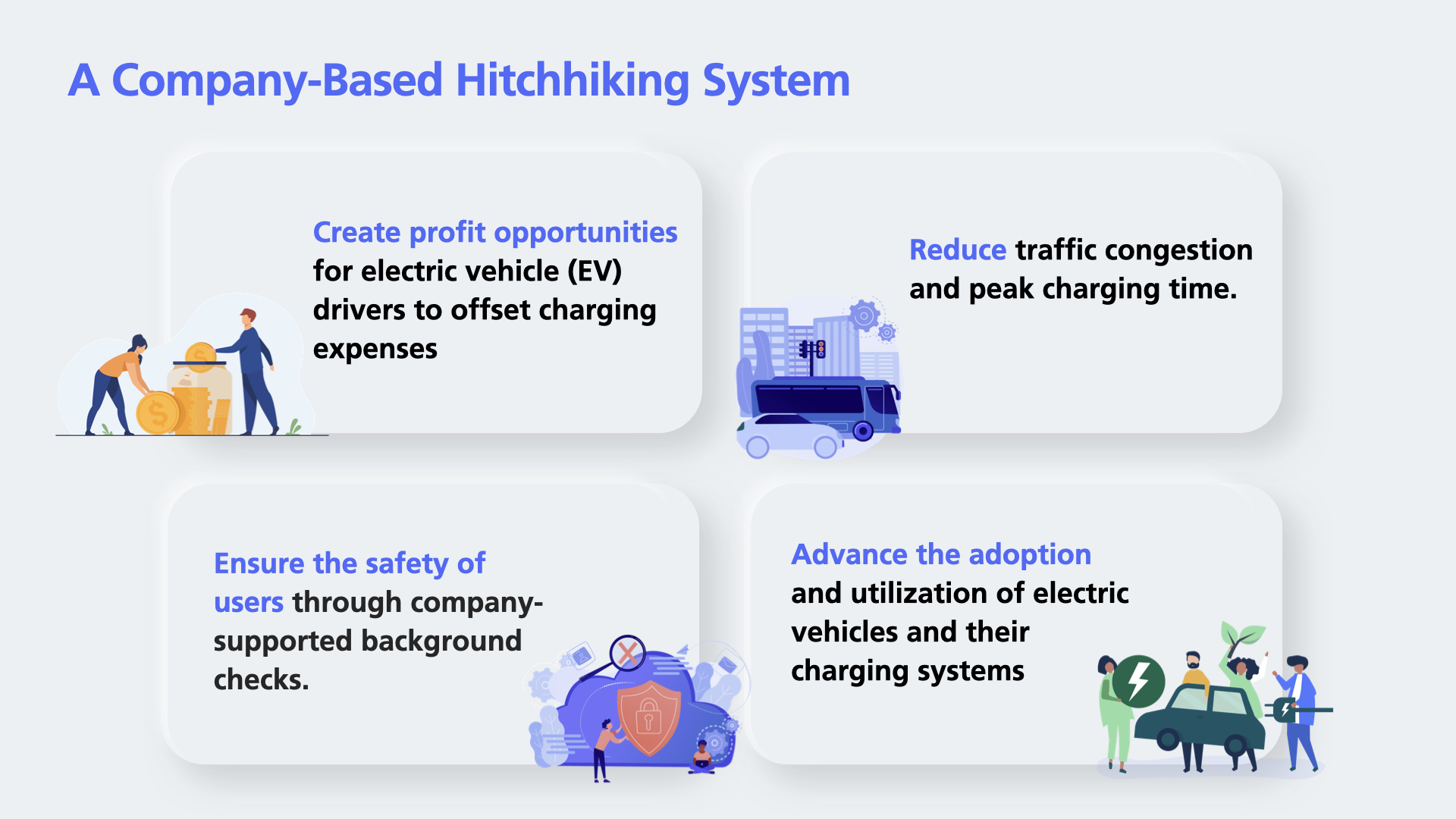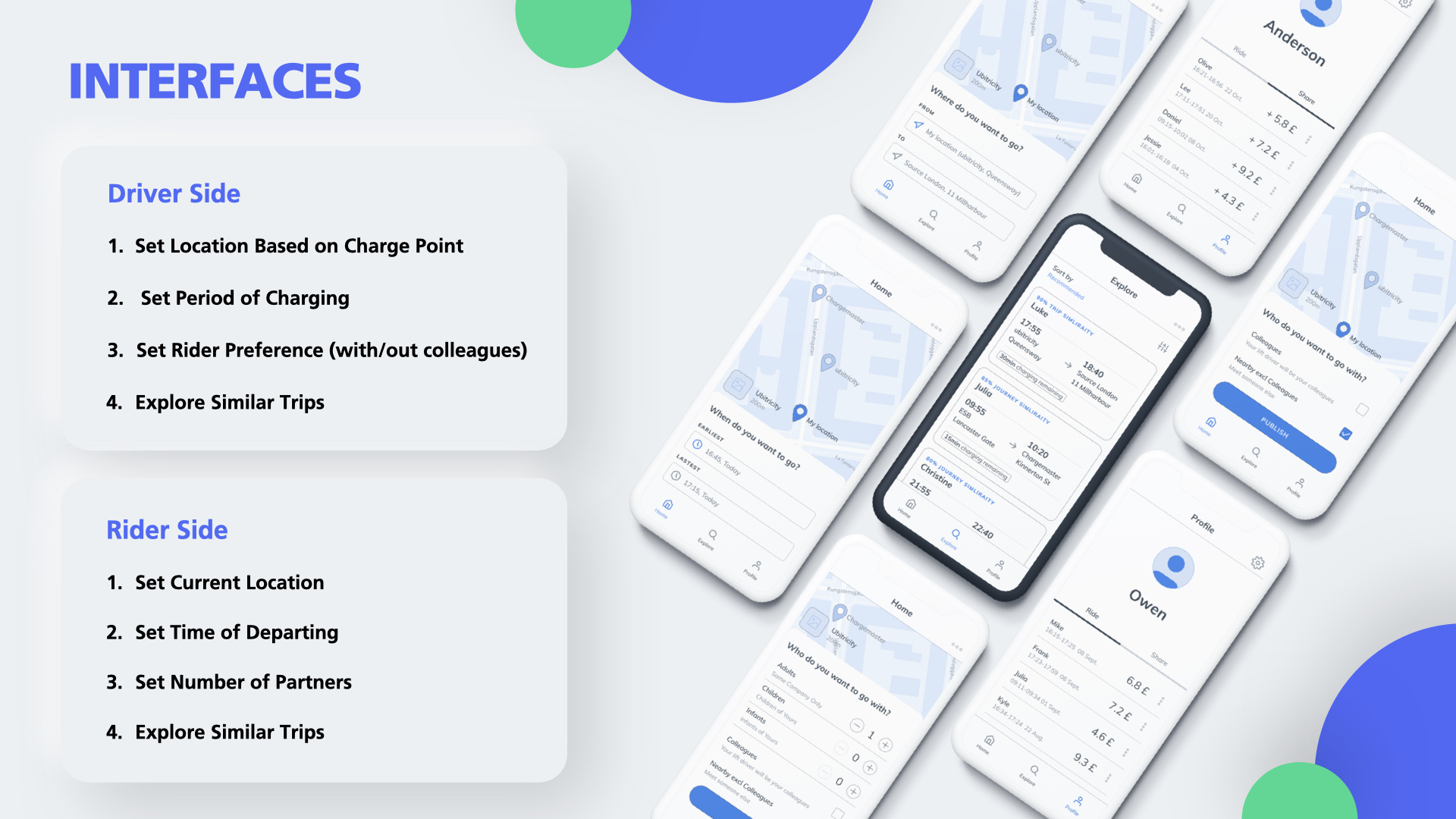 VALIDATION
The platform operates by directing revenue streams from various sources. The primary source of income is a service fee, which accounts for 20% of the total fare charged to riders. Additionally, the platform will seek opportunities to collaborate with companies who wish to install charging points at their workplace. We will negotiate installation contracts, provide discounts, and promote the platform to their employees. Furthermore, as a company committed to promoting a low-carbon lifestyle, we actively seek funding from government organizations to support our mission.