solo final year project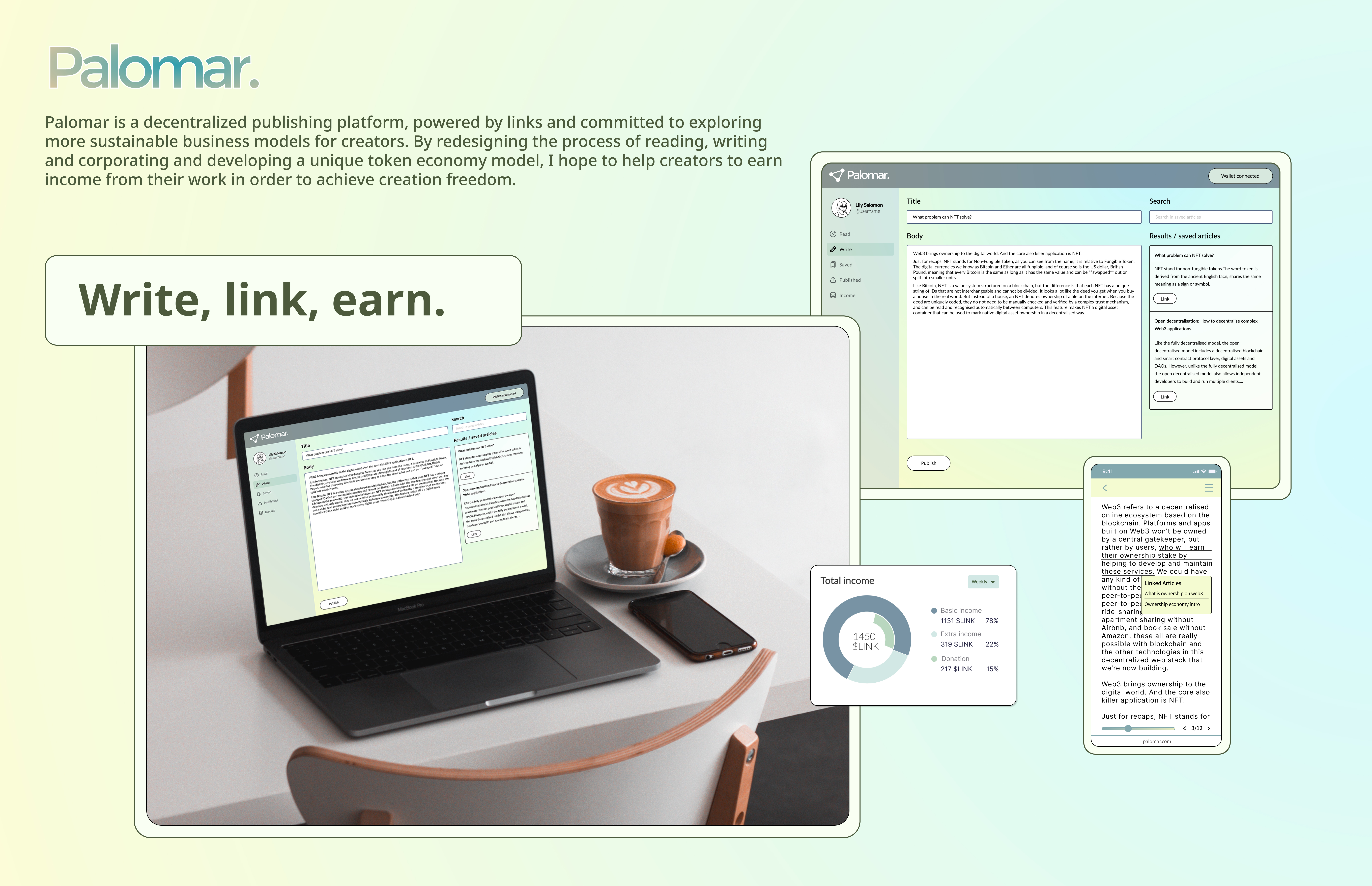 Overview

Palomar is a decentralized writing platform, aims to connect and reconstruct knowledge. In this project, I proposed the concept "links as tokens", to exploring more sustainable business models for creators.

01 Background

What is web3?

To answer this question, we have to look back, to the history of the web.



In web1 and web 2, all data is stored in a central server, and the use of data also triggered many problems, such as information cocoon and limited create freedom.

Put it simply, Web 3 is imagining new possibilities by changing the way data stored and used. Over the past few years, a number of web 3 platforms were created, to make a difference with the existing web2 advertising-based business model.

02 research

So, what are the design opportunities in web3?

To anwsers this questions, I did research on 3 aspects:

1. Meetings with web3 developers
2. Desk research
3. In depth Interview with users
I reached out to Matters, to understand the need and the pain of the current web3 platform. It is one of the biggest web3 publishing platform which has more than 80,000 creators. The platform provides an interface as familiar as web2 applications and a distributed file system for storing and sharing data. I choosed this platform because it has many professional generated contents, and I wanted to apply web3 technology to professional content production.
Matters tries to promote the concept - "creativity has a price". After a meeting with them, I summarized three challenges they are facing.

The biggest confusion is the pricing plan. They have developed a subscription service as an Mvp, but they still wonder whether the monthly payment model is suitable for every creator. Also, limited user base is still their pain point. In addition to that, they hope they can nuture a self-driven community.

After that, I carried on user interviews with 5 readers and 6 creators who are in different stages of life. The goal of the interview is to understand readers' day to day reading journey and consumption habit, also creator's journey and their opinions on revenue.

Here are the key takeaways of the persona: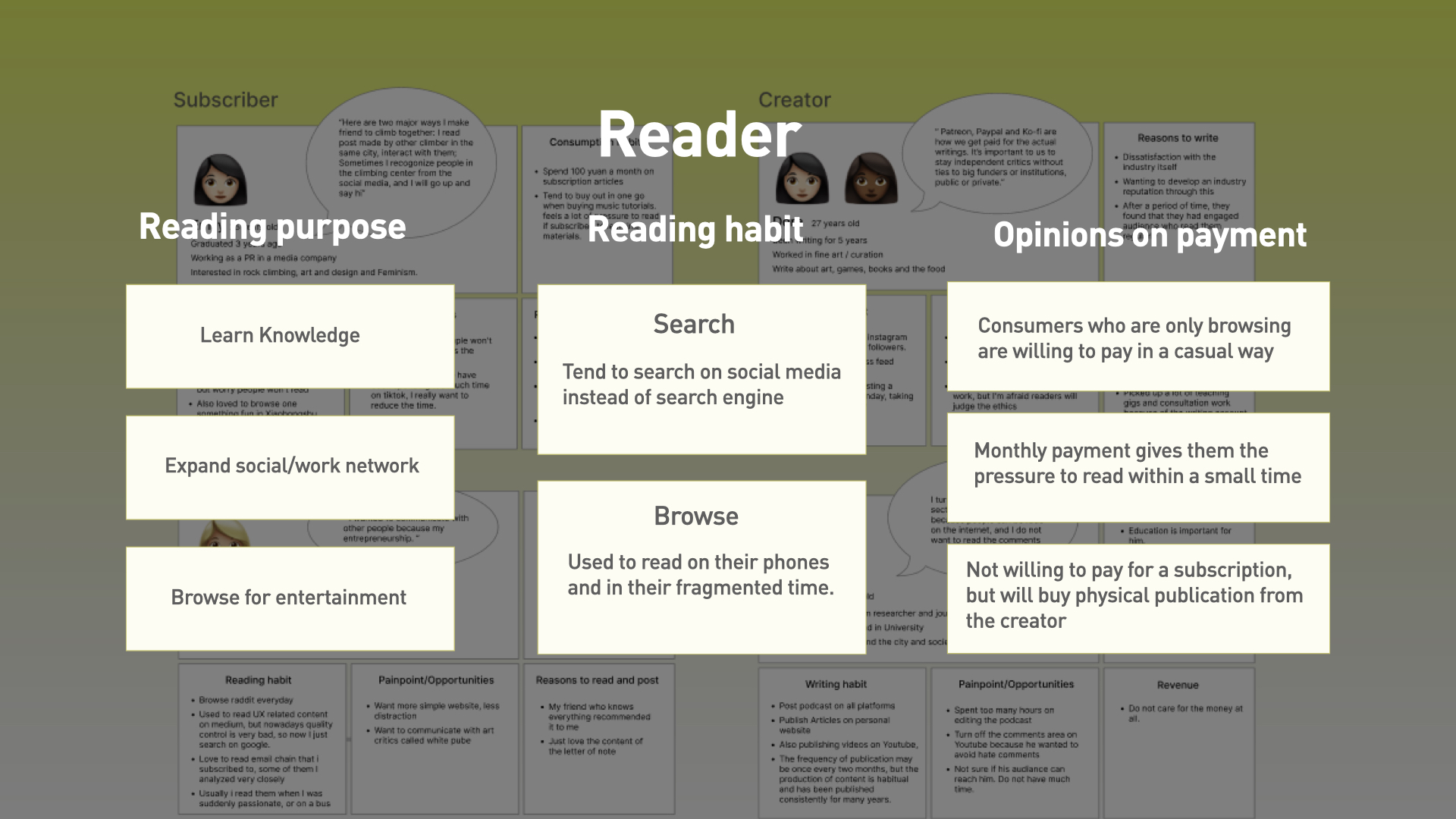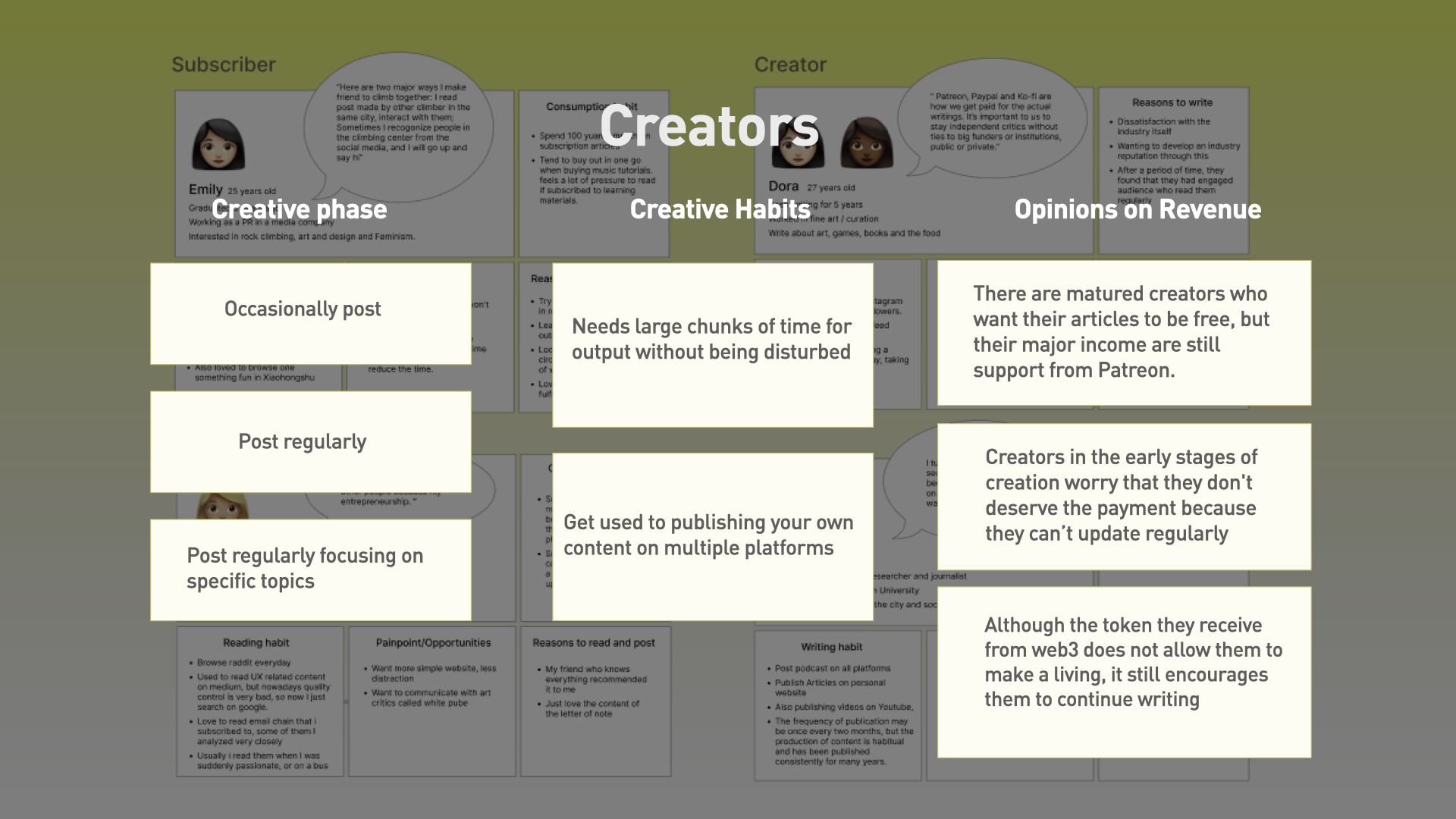 From the journey, I summarised design goals based on three theme: system, token, and interface.
03 Concept



How might we …
design an economic model for 'paid content' in a web3 scenario, enabling creators and consumers to exchange value efficiently, and provide them with a community ?
So here is my concept:

Links as tokens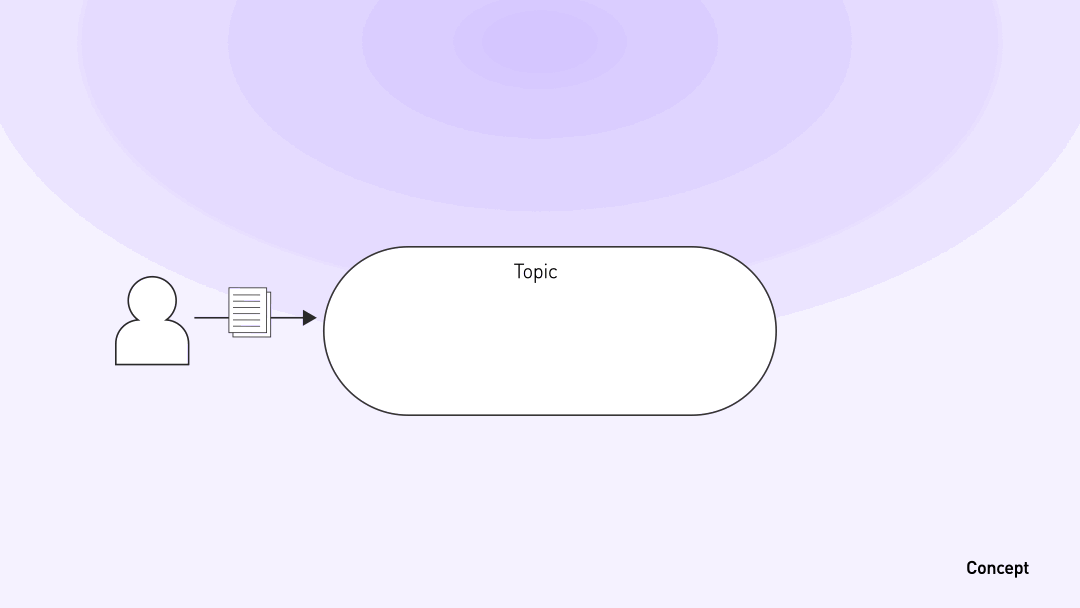 - In this platform, creators can publish their articles in topics
- Each topic has an intial pool of funds, creators who post in the topic will receive a share of tokens as the basic income

- When an article is linked to other articles, creators will be rewarded with additional tokens
- Readers can support topics by donating tokens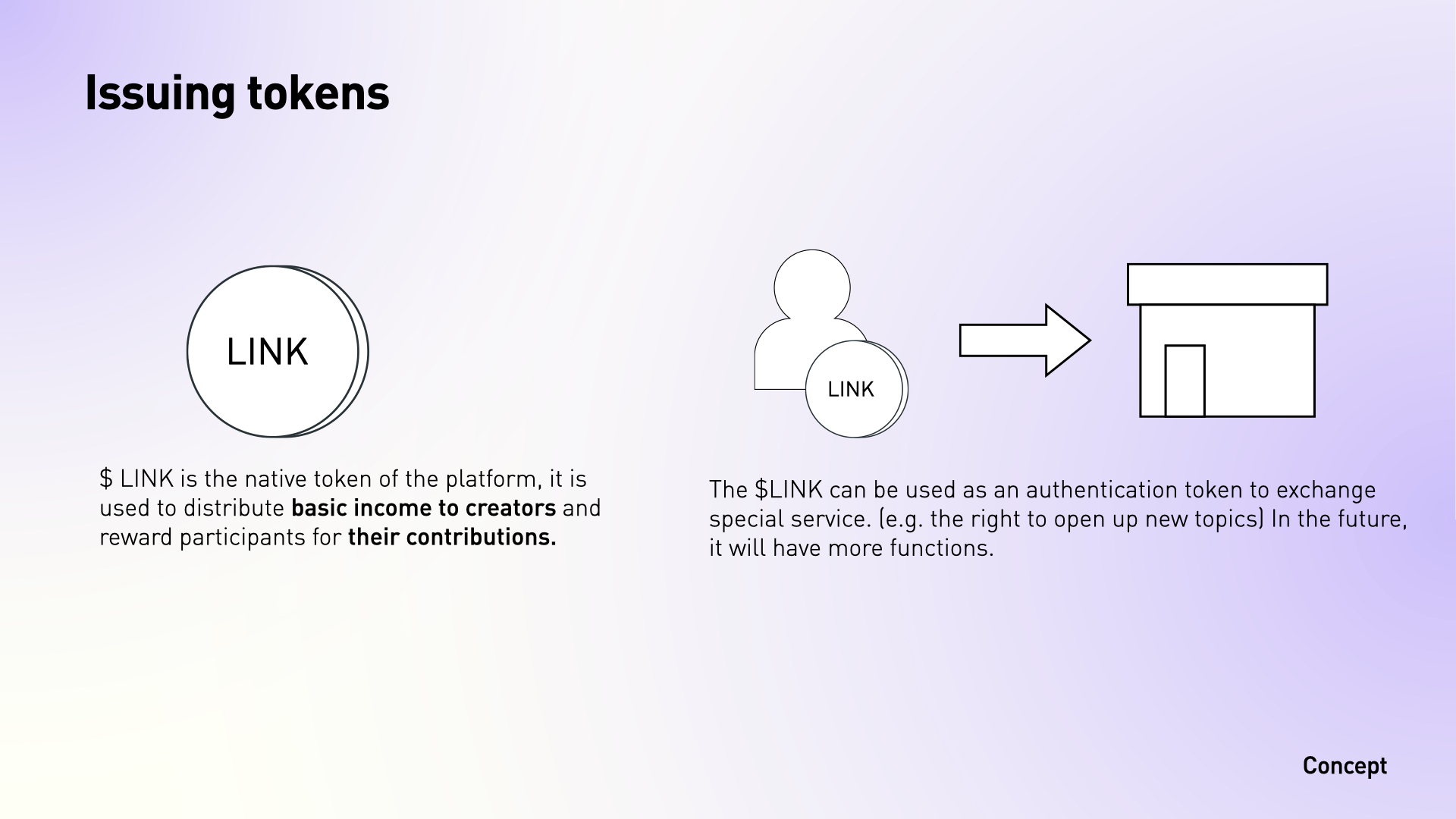 Here is the story of creator Lily.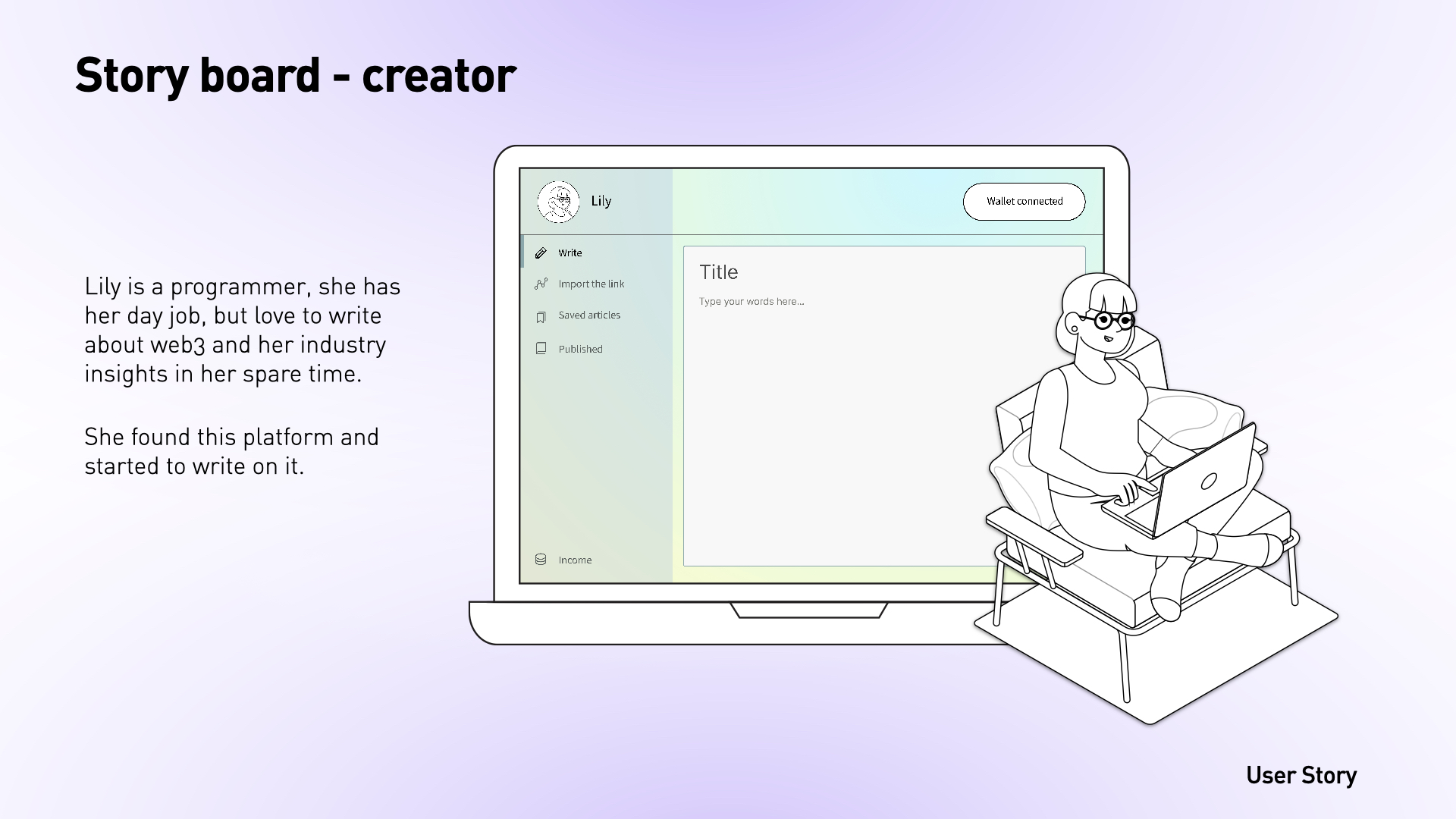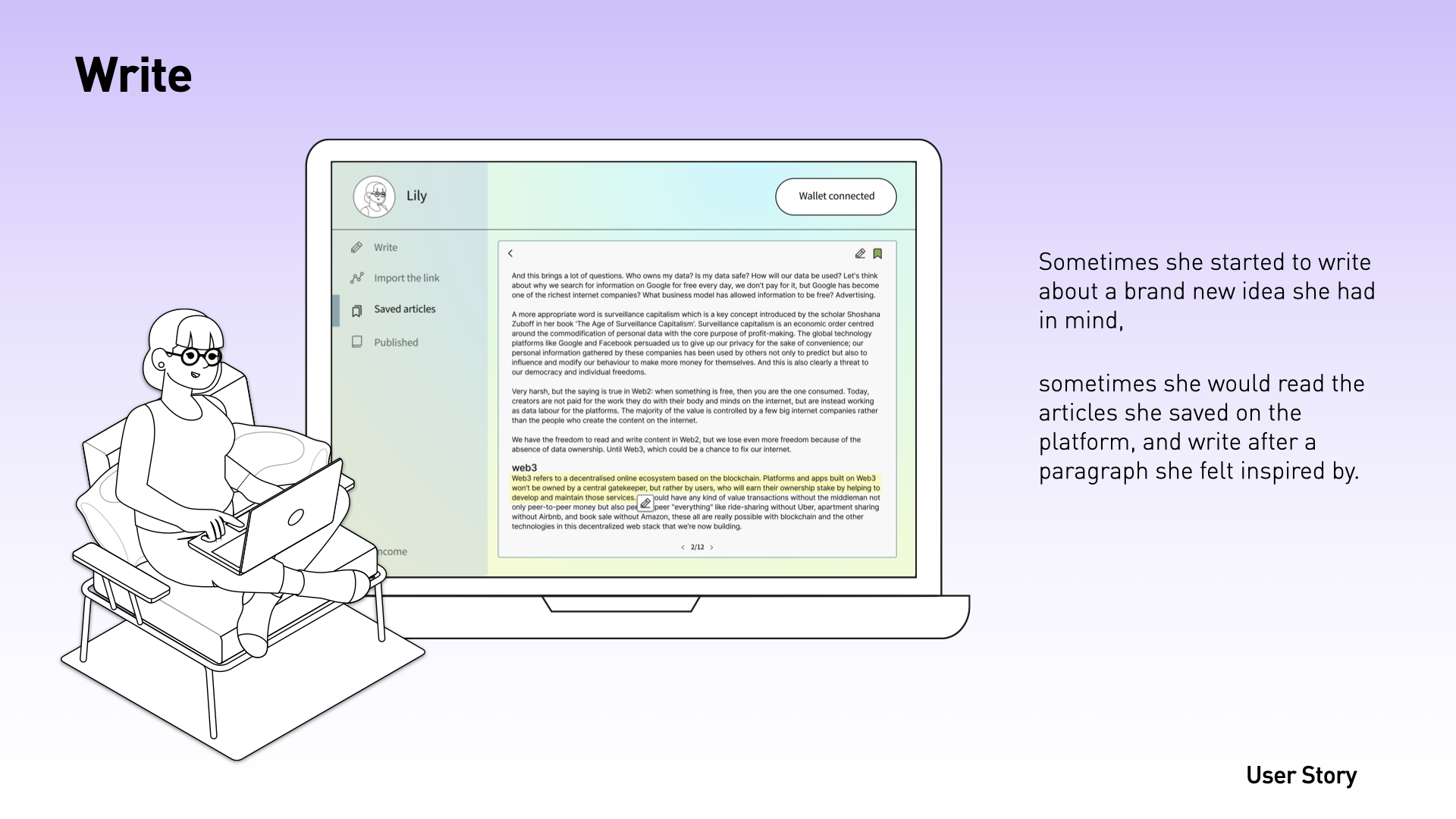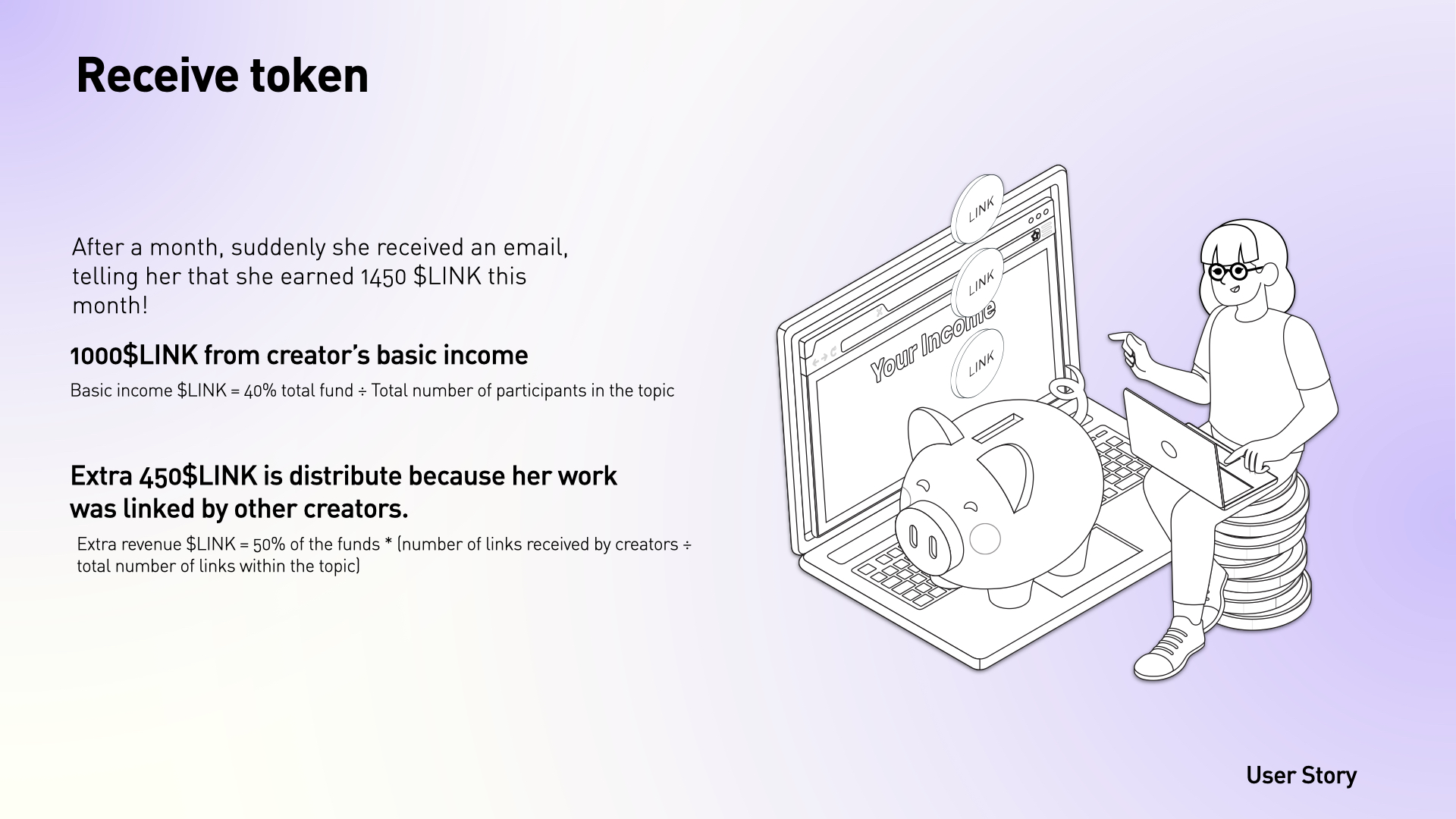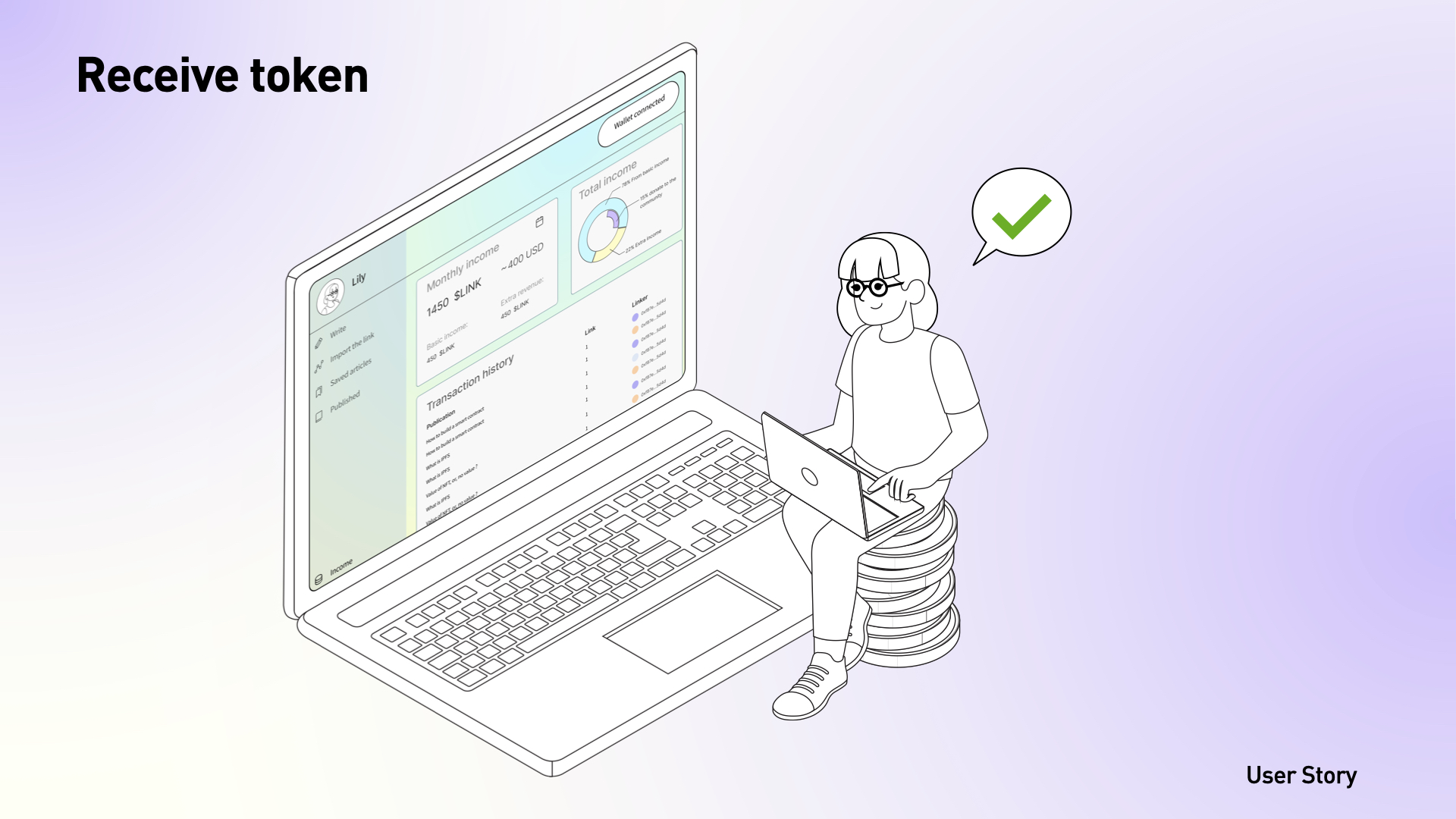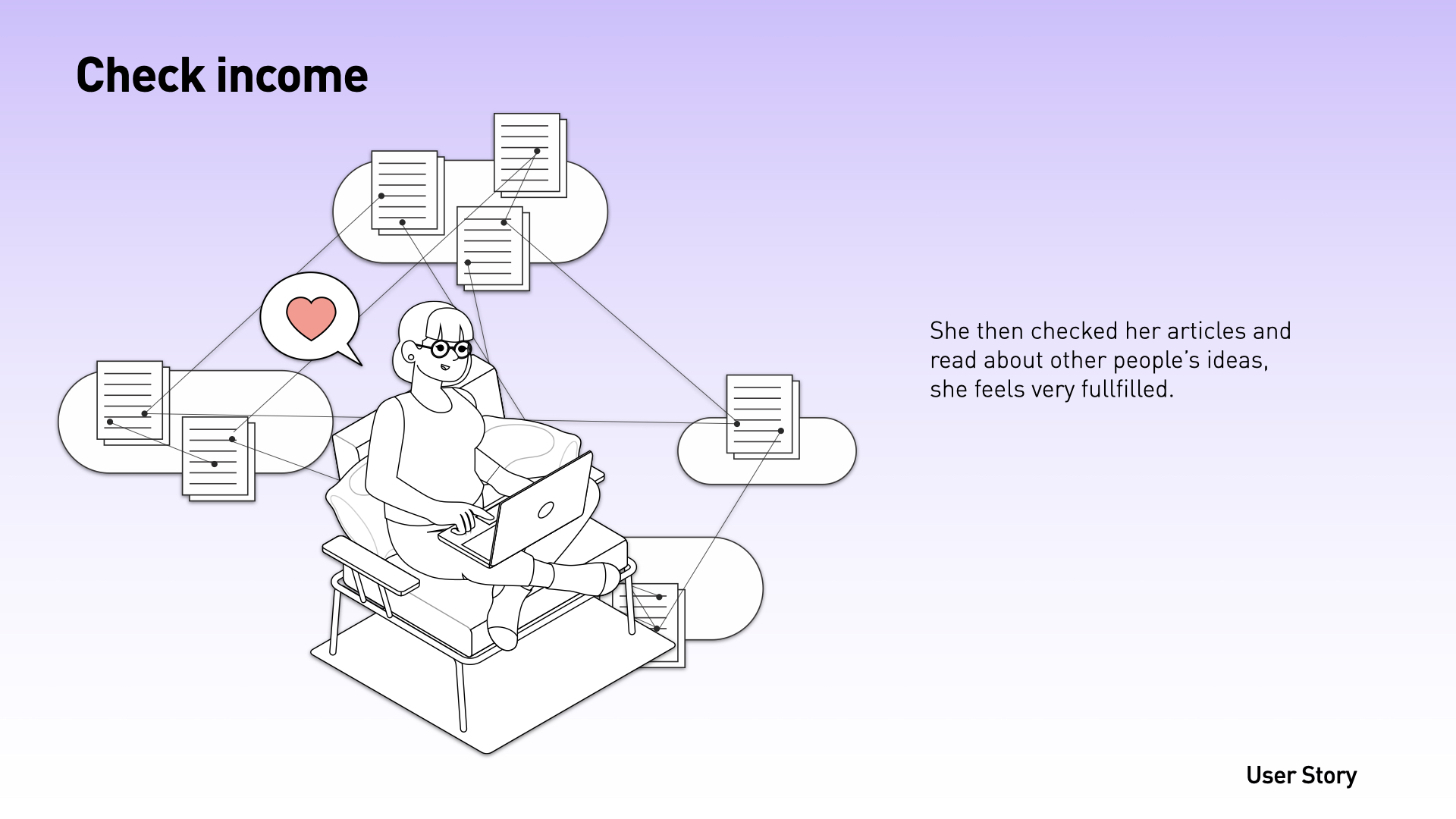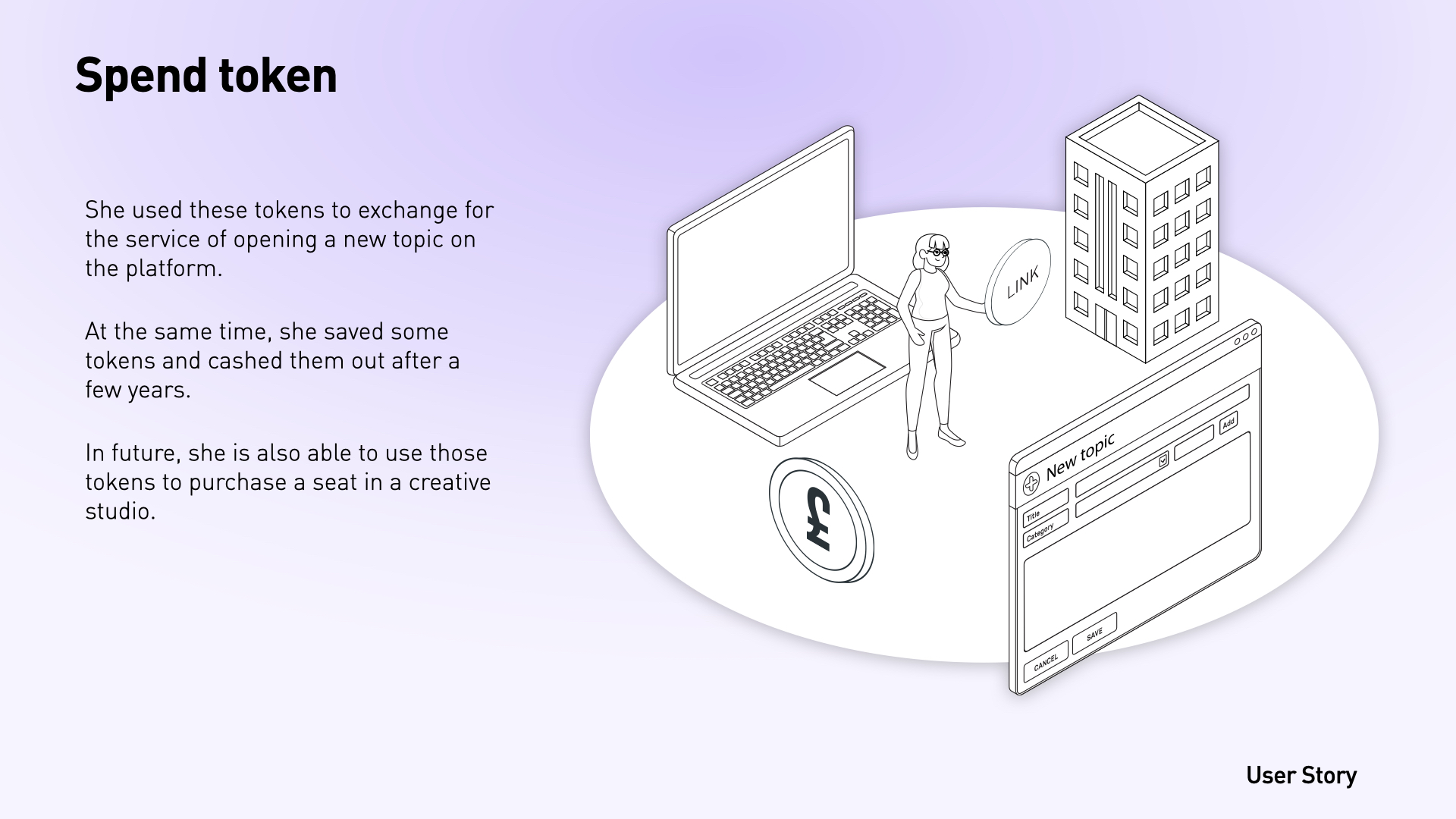 click to see the full story
Here is the story of reader John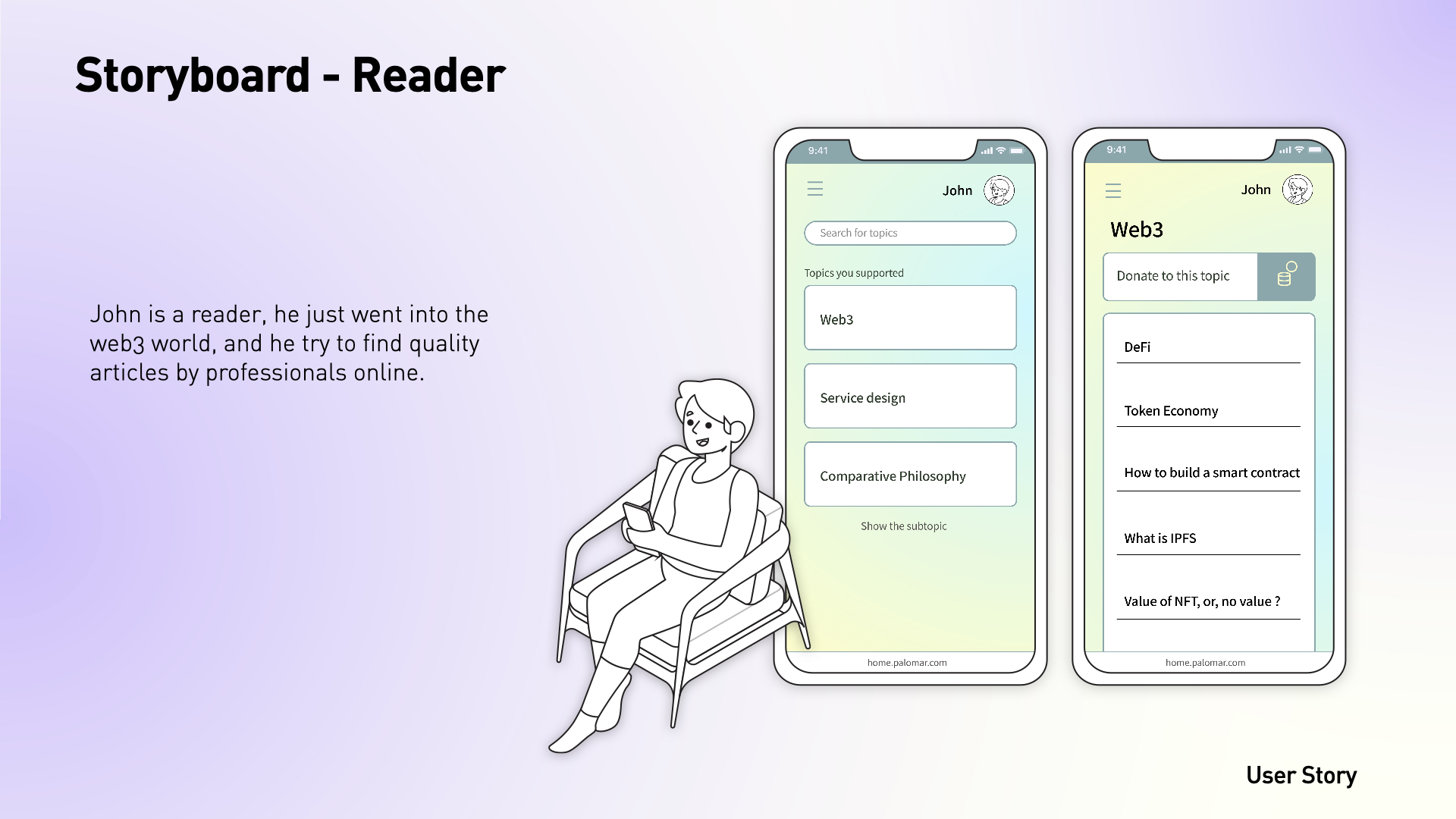 04 Validation workshop
I brought my idea to matters and asked for their opinion. They loved the idea, and pointed out that encouraging smaller creators to produce is very important; They also agrees that Subscription feature itself is more suitable for top creators. They mentioned two features they had in the platform which is similar to my feature: the hashtag and reference.

In the table below I have compared the functions and values between matters and palomar.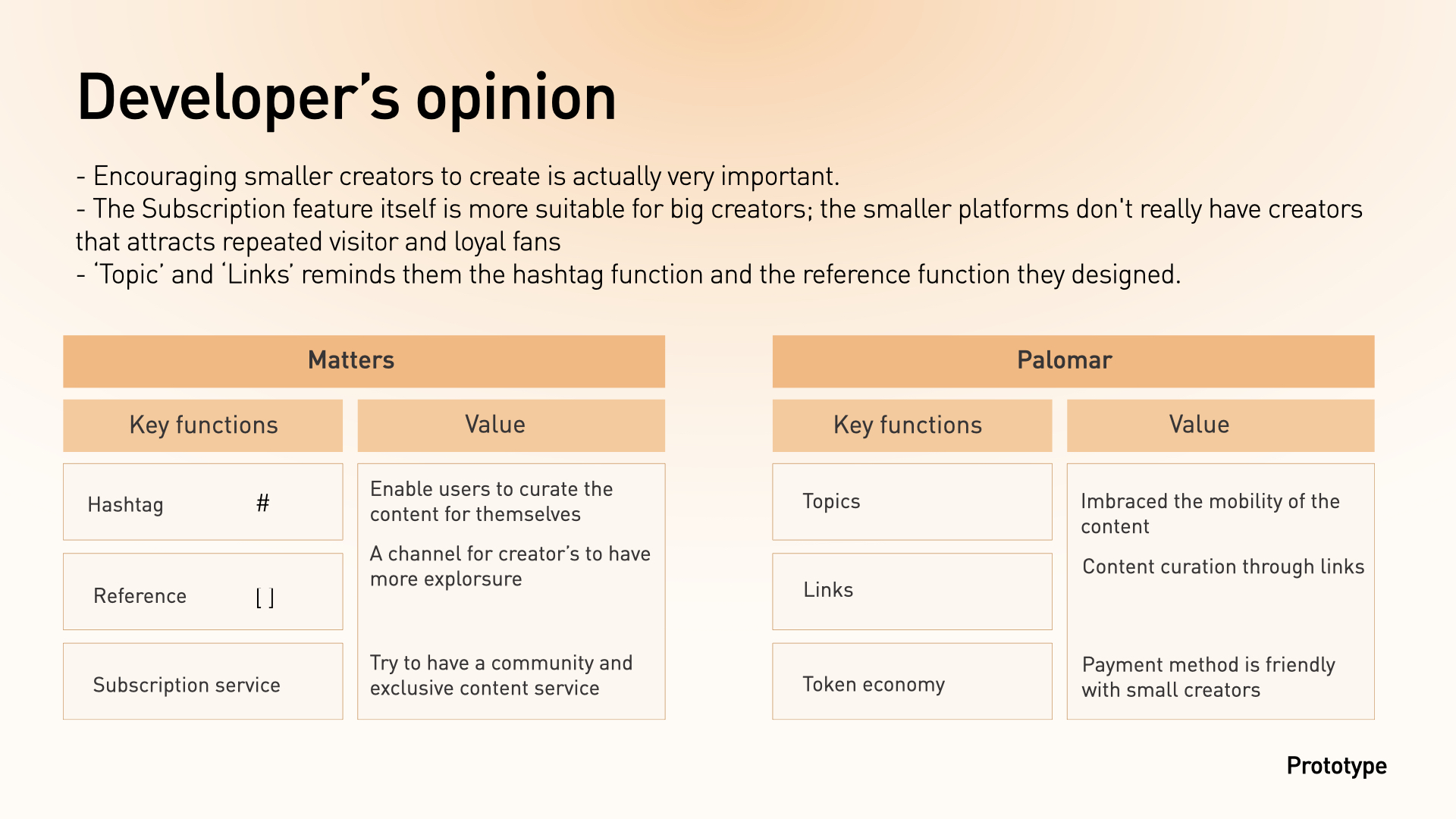 To further validate the concept, I held a online workshop to test the basic functionality of the product, and discussed current 'hashtag' and 'reference' user experience on Matters.


- Before the workshop start, Users were asked to write around topics and link each other's content

- In the ice break stage, I asked creators about their experience using the hashtag/topics
- Based on the preparation condition, we then lead participants to read, write and link
- We also allow readers to donate tokens at the same time
- After the activity, Tokens are assigned based on the final data
- Finally, we have the roundtable discussion about the experiences

7 creators and 2 readers come to the workshop.
Here are the useful feedback I collected from users.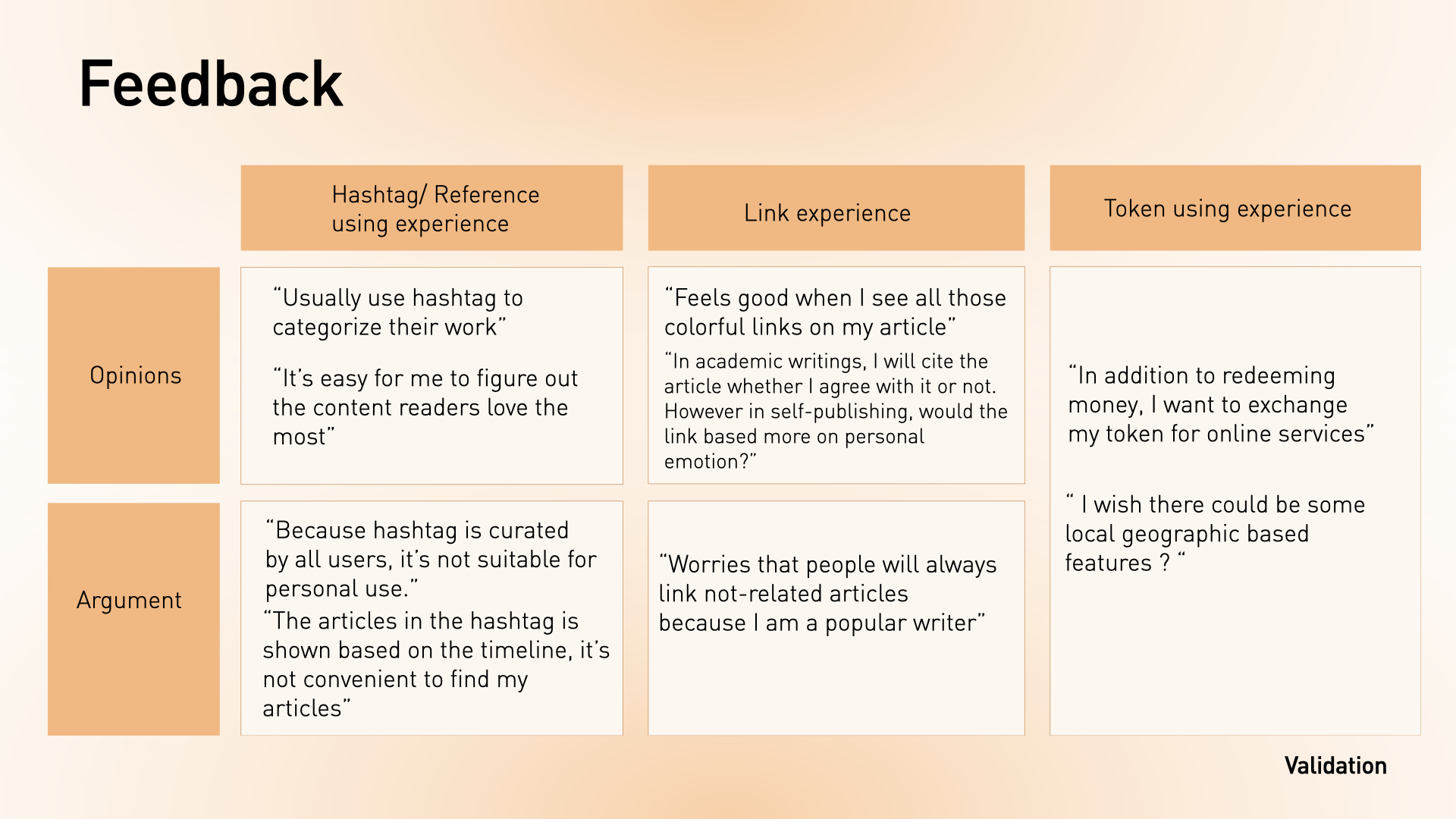 By observing users' behavior in the workshop, I also noticed that because all participants received a similar number of links, at the end it does not show a very large difference in income. So I assume similar activities could be carried out in the future and the earnings distribution formula should be improved based on the data collected.
05 Business model


Although it's seems like a speculated project so far, I believe the ownership economy will come within 10 years.
So, How to make it real? I made business model canvas and money flow here to confirm of the duability.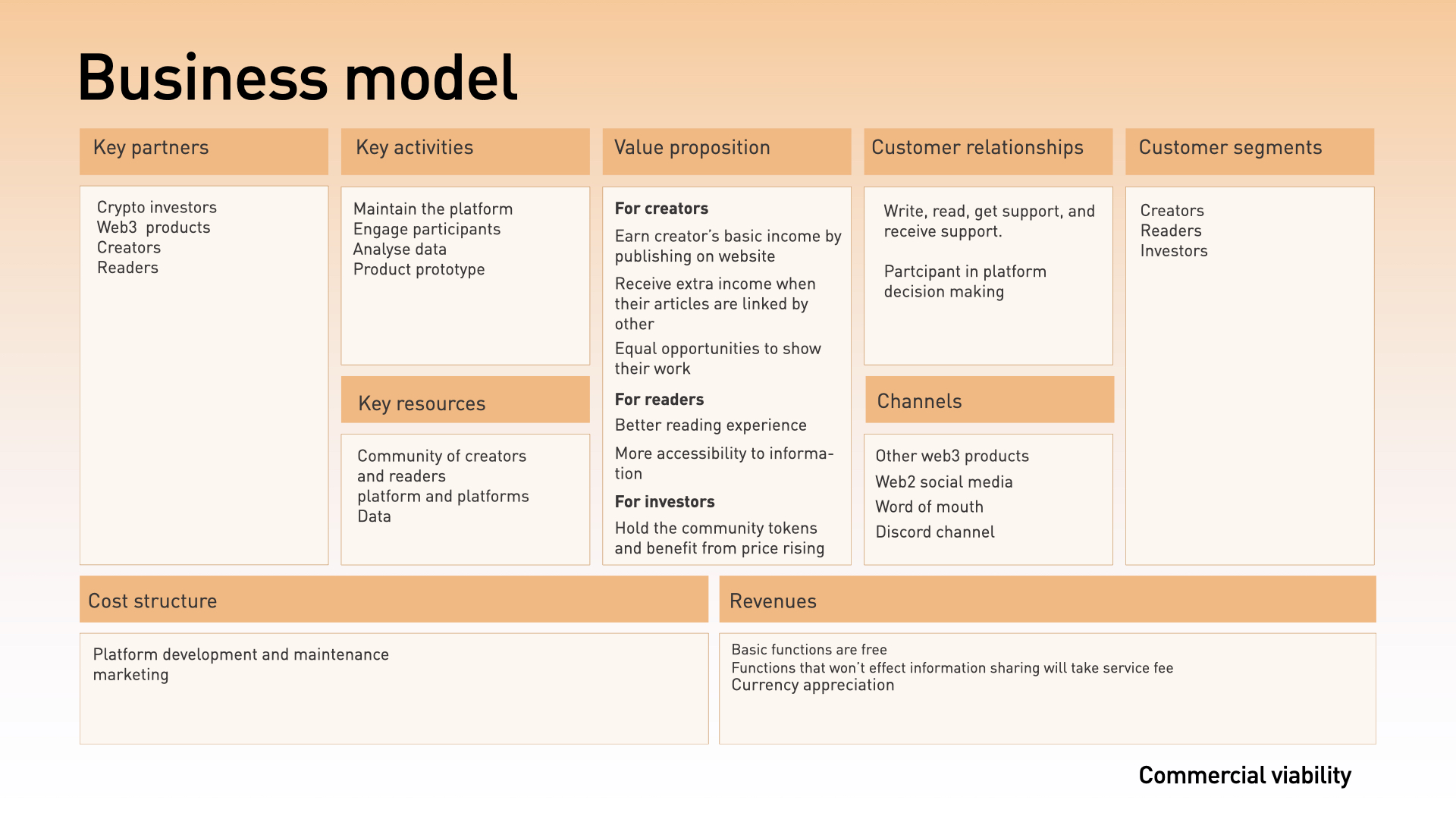 Palomar is a platform powered by links, committed to exploring more sustainable business models for creators.


Nowadays we are living in a world that is divided by apps, and we forget the internet is powered by countless small links.

When we get used to being fed up with contents, we forget that we have the ability to actively seek the information we need.

When we get used to enjoy the free online services, we forget that we actually are the owners of the content that we created.