Palomar
Feb - May 2022


Palomar
is a web3 writing platform. It utilizes the concept of "links as tokens" to tokenize the connections between articles and create a more sustainable business model for content creators.
My role
in this project includes user research, workshop design and facilitation, prototype design.
Partnership with
Matters.news
Matters.news is one of the biggest web3 publishing platform which has 100,000 creators and 6 million monthly page views. The platform provides an interface as familiar as web2 applications and a distributed file system for storing and sharing data.

What is web3?
In web1 and web 2, all data is stored in a central server, and the use of data also triggered many problems, such as information cocoon and limited create freedom. Put it simply, Web 3 is imagining new possibilities by changing the way data stored and used. Over the past few years, a number of web 3 platforms were created, to make a difference with the existing web2 advertising-based business model.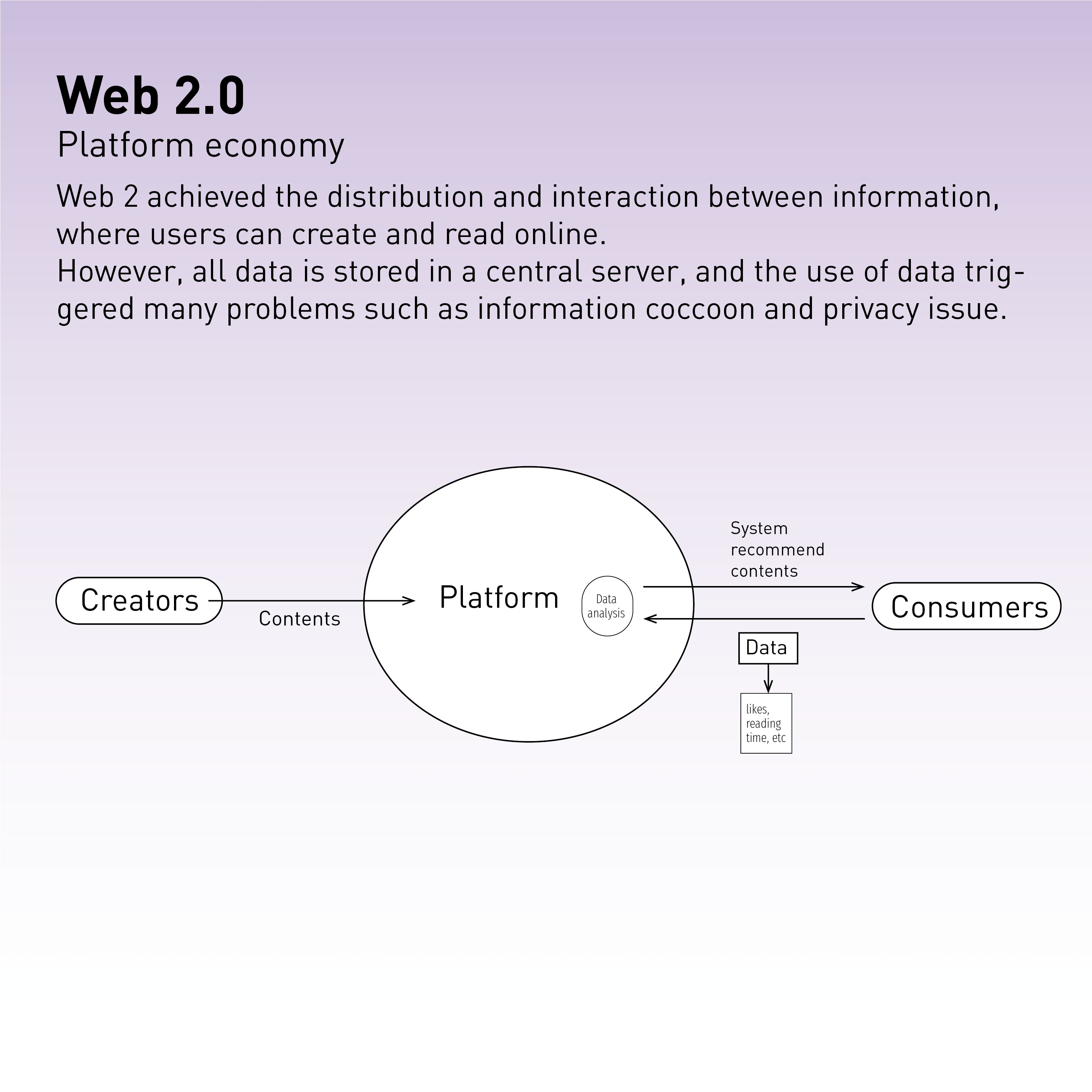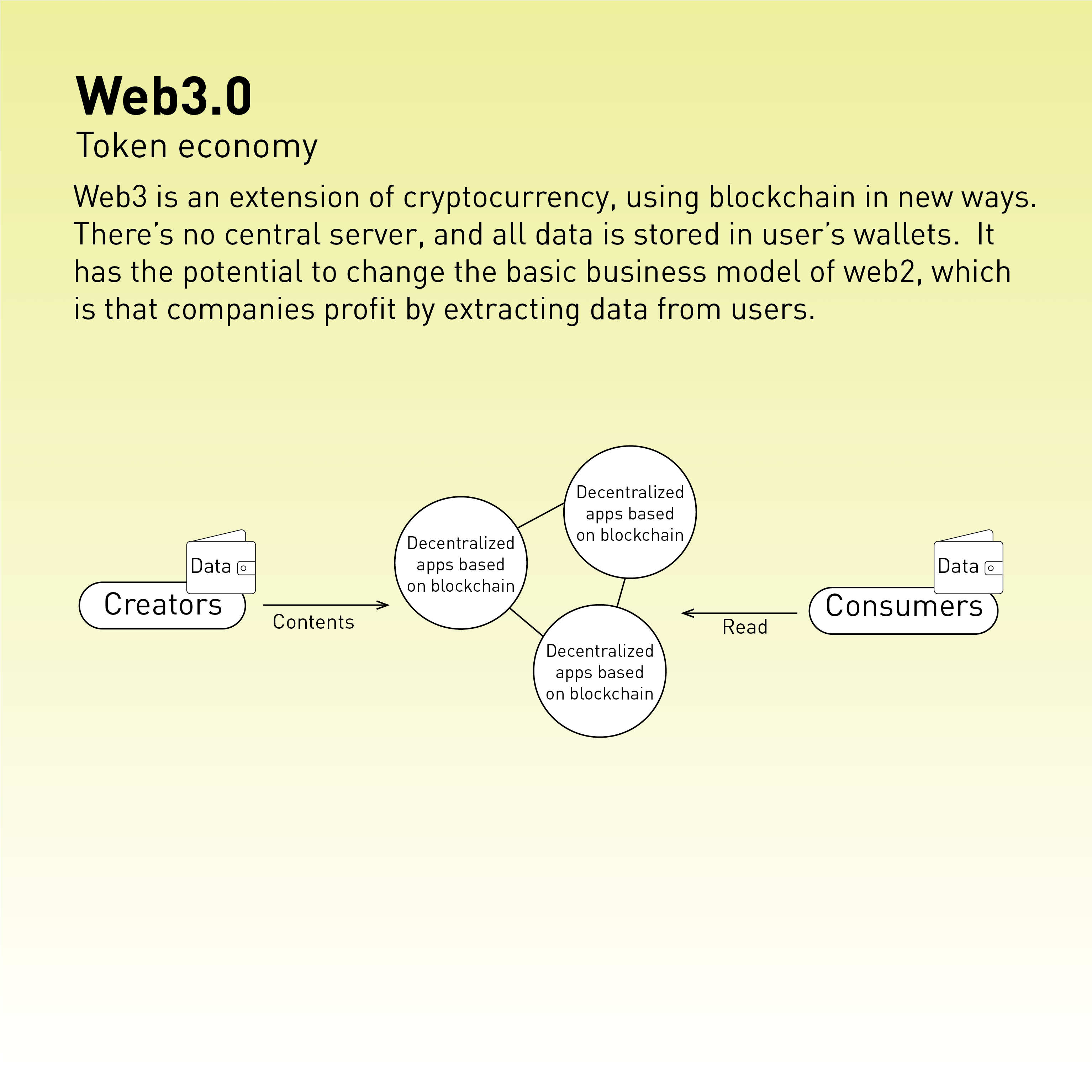 Matters.news, as one of the pioneer web3 publishing platforms, they try to promote the concept - "creativity has a price". The team behind the platform is currently evaluating various payment plans to determine the most appropriate economic model for the platform.



02 Research
After a meeting with team of matters (participants include: CEO, product designer, data analysist, and community operator), I summarized three challenges they're facing: the economic model, the user base, and the community.
These three factors are closely interrelated and are crucial for the success of a web3 content platform.
User research
Research goal is to understand creator's creation process, and the creators and consumers experience on earning revenue and paying for content respectively.
Research methods:
Analyse the questionare data
User interview with 8 creators and 10 content consumers
Desk research
Outcomes
User journey


daily creation journey
on platform journey
career development journey

Personas
03 Insight
The platform needs more and diverse content
By analysing the content of the questionnaire, I realised that for content consumers, not having enough diverse content is the main pain point. The number of users who come to matters for writing and reading is close and their identities overlap. We should focus our attention on motivate more creators to create.
Three stages of career development for creators
I find that the creator's experience goes through these main stages: in each stage they will have different ideas about revenues.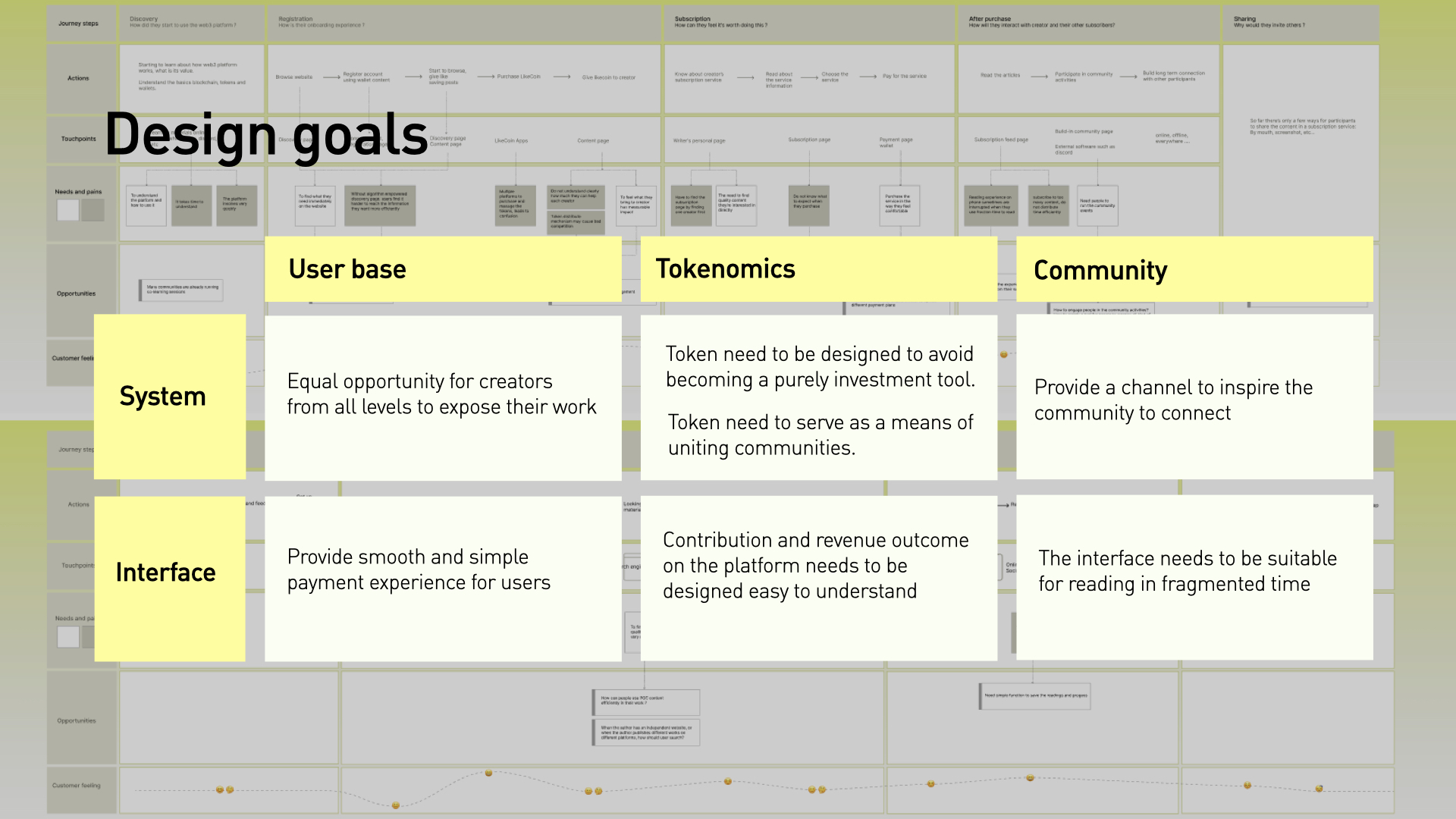 How might we design an economic model for 'paid content' in a web3 environment that
supports small creators and fosters a sense of community?"
03 Solution
Based on the HMW question, I proposed a concept:
"Links as tokens"
On this platform, creators can publish articles within specific topics and each topic will have an initial pool of funds. Creators who post within a topic will receive a share of tokens as basic income. When an article is linked to other articles, creators will receive additional tokens as a reward. Readers can also support topics by donating tokens. Tokens is a representation of account weighting and a record of a user's contribution to the platform. Creators can also redeem the tokens for cash in the future.
Story board
Here is the story of creator Lily and content consumer John.

04 Validation
To further validate the concept, I held a online workshop to test the basic functionality of the product.
The workshop is designed to have 6 steps:
1. Before the workshop start, Users were asked to write around topics and link each other's content
2. In the ice break stage, I asked creators about their experience using the hashtag/topics on Matters.
3. Based on the preparation condition, we then lead participants to read, write and link
4. We also allow readers to donate tokens at the same time
5. After the activity, Tokens are assigned based on the final data
6. Finally, we have the roundtable discussion about the experiences
Participants
- 7 writers who have written on Matters. Their content is more objective and professional, and they publish less content about their personal lives. Among the participants,
- 2 creators who update content regularly on specific topics
- 3 creators who produce content regularly
- 3 participants who produce content occasionally
Some useful feedback are collected from users. Their feedback has confirmed the concept and will be taken into account in future designs.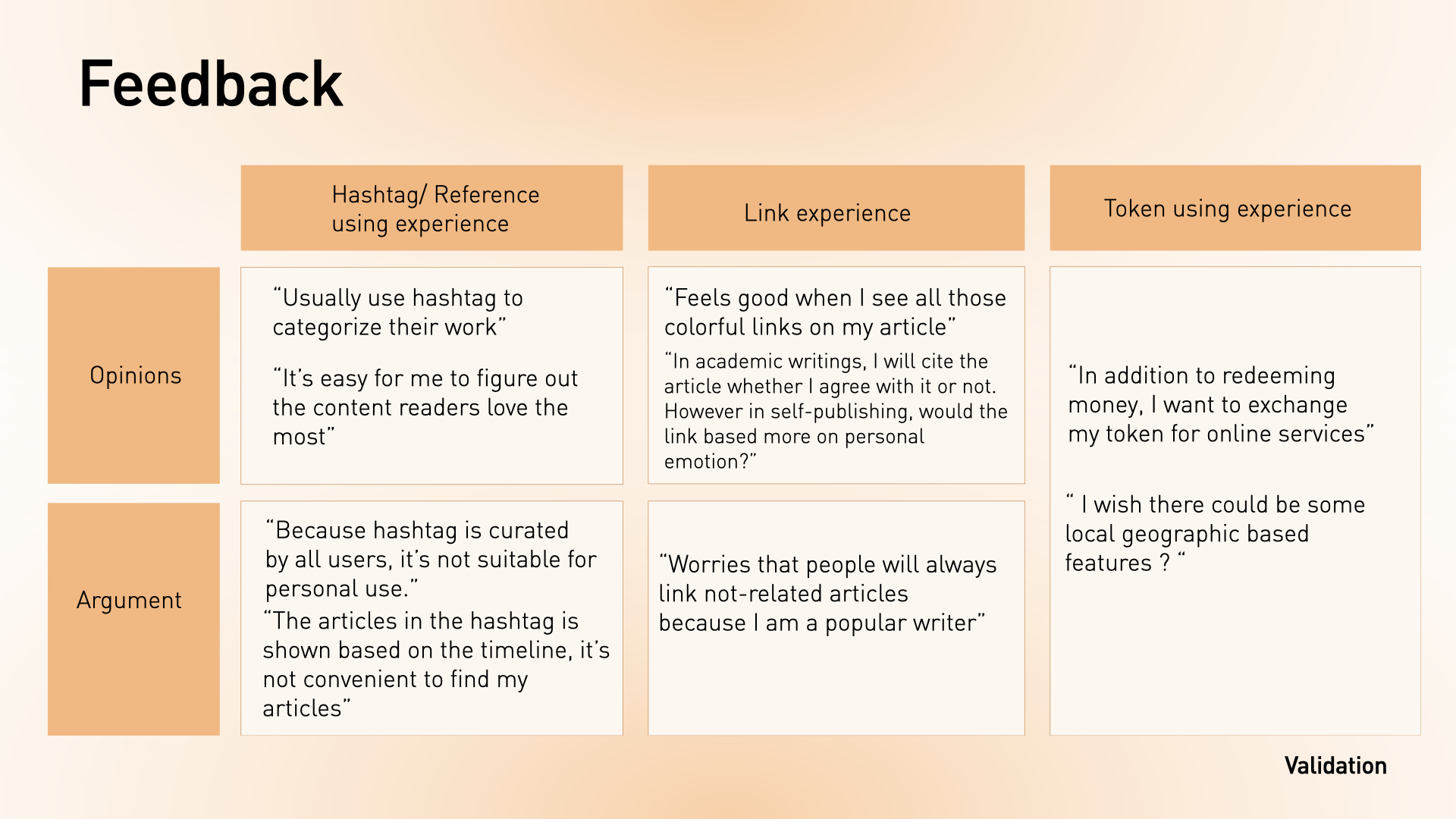 05 Product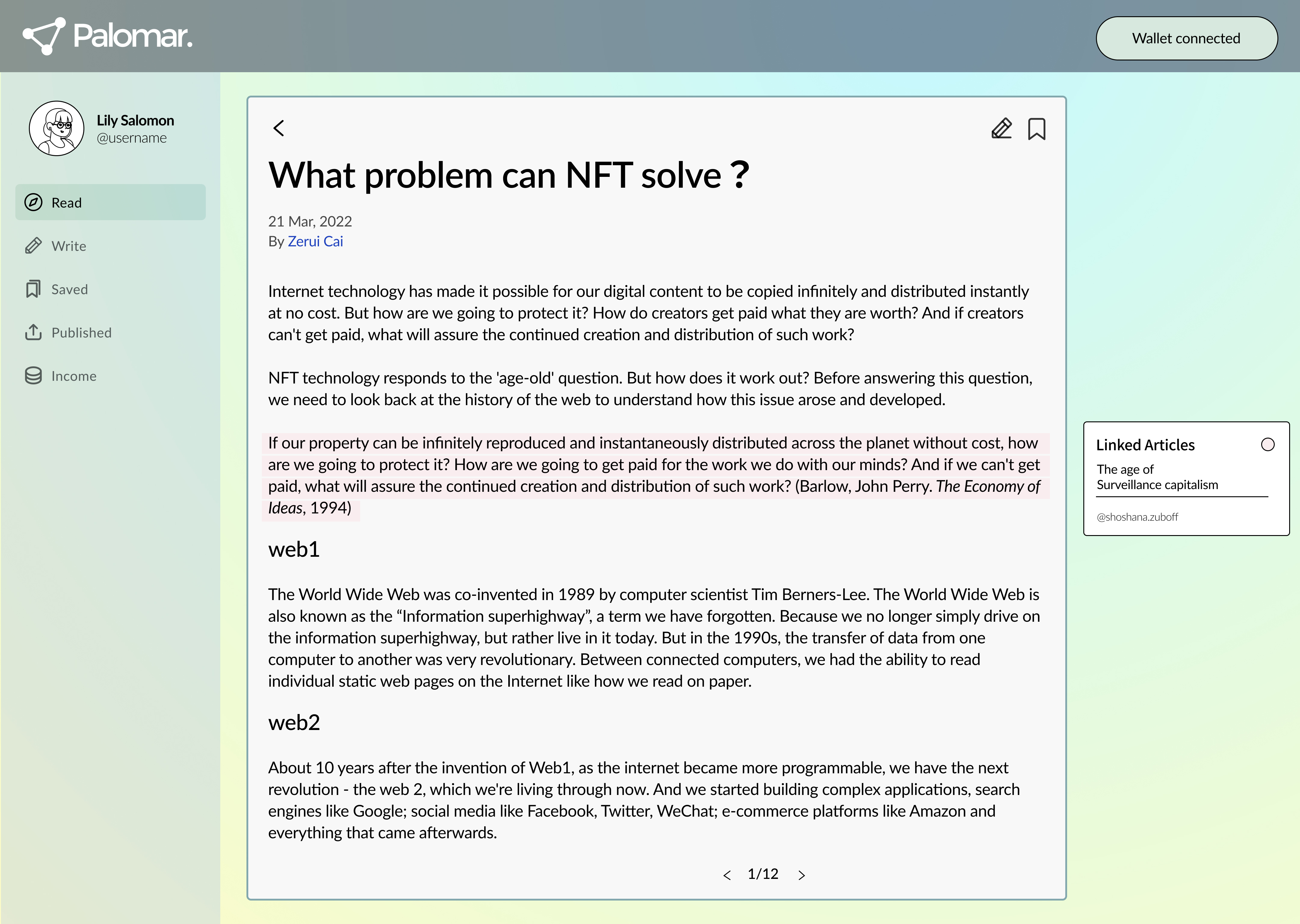 06 Business model